As a hairstylist, I've seen trends come and go, but balayage on short hair holds a special place in my heart. It's not just a technique; it's an art form that adds depth and character to hair, transforming looks with every stroke of the brush.
Balayage, a French term meaning "to sweep," is a method I adore for its ability to create a sun-kissed, natural appearance. This freehand painting technique allows me to bring out the best in various hairstyles, from pixies to bobs. It's more than color; it's about crafting a unique personality for each of my clients.
Choosing the Perfect Balayage
Selecting the right balayage for short hair is a journey of discovery. It's not just about the color; it's about understanding the person behind the hair. Here's how I approach it:
Haircut Harmony: Each haircut has its own story. A blunt bob might pair beautifully with subtle highlights, while a layered pixie comes alive with bold contrasts.
Texture Talk: The hair's texture speaks volumes. Straight hair makes colors pop, whereas wavy or curly textures blend them for a softer look.
Color Chemistry: I always consider skin tones and natural hair hues. My goal? To find that perfect shade that complements, not competes.
Strategic Placement: For short hair, I love adding face-framing highlights or starting a few inches from the root for that effortlessly grown-out look.
Fun Fact: Did you know that balayage grows out more naturally than traditional highlights, making it ideal for those who can't frequent the salon?
Maintenance: Keeping the Magic Alive
Balayage is low-maintenance, but not no-maintenance. I recommend a color-safe shampoo and conditioner, and touch-ups every few months to keep the vibrancy alive.
Pro Tip: Wait 48 hours after coloring before washing your hair to allow the color to set in deeply.
The World of Color Variations
Balayage on short hair isn't a one-size-fits-all. Each color variation tells a different story:
Blonde Balayage: It ranges from cool ash to warm honey, perfect for brightening up the face.
Brown Balayage: From chestnut to caramel, it's the go-to for a natural, grounded look.
Dark Balayage: A spectrum of dark brown to auburn, adding richness and depth.
Silver Balayage: A bold statement, requiring commitment but offering stunning results.
Crafting a Signature Look
Balayage lets me tailor each color application, ensuring no two looks are the same. From face-framing highlights to ombre effects, each technique adds a unique twist, reflecting the individuality of each client.
Balayage for Every Skin Tone and Face Shape
Finding the right balayage isn't just about preference; it's about what complements your skin tone and face shape. Warm undertones shine with honey and caramel, while cool undertones are flattered by ash and platinum shades. The shape of your face guides the placement and intensity of the highlights, ensuring a look that's both flattering and personal.
The Joy of Transformation
In my years as a hairstylist, I've learned that balayage is more than a technique. It's a way to express individuality, to bring a sense of joy and confidence to my clients. Each brush stroke isn't just applying color; it's crafting a story, a piece of art that reflects the unique beauty of the person in my chair.
Whether it's a subtle enhancement or a bold statement, short hair balayage is a journey of transformation, and I'm grateful to be a part of that journey for each of my clients.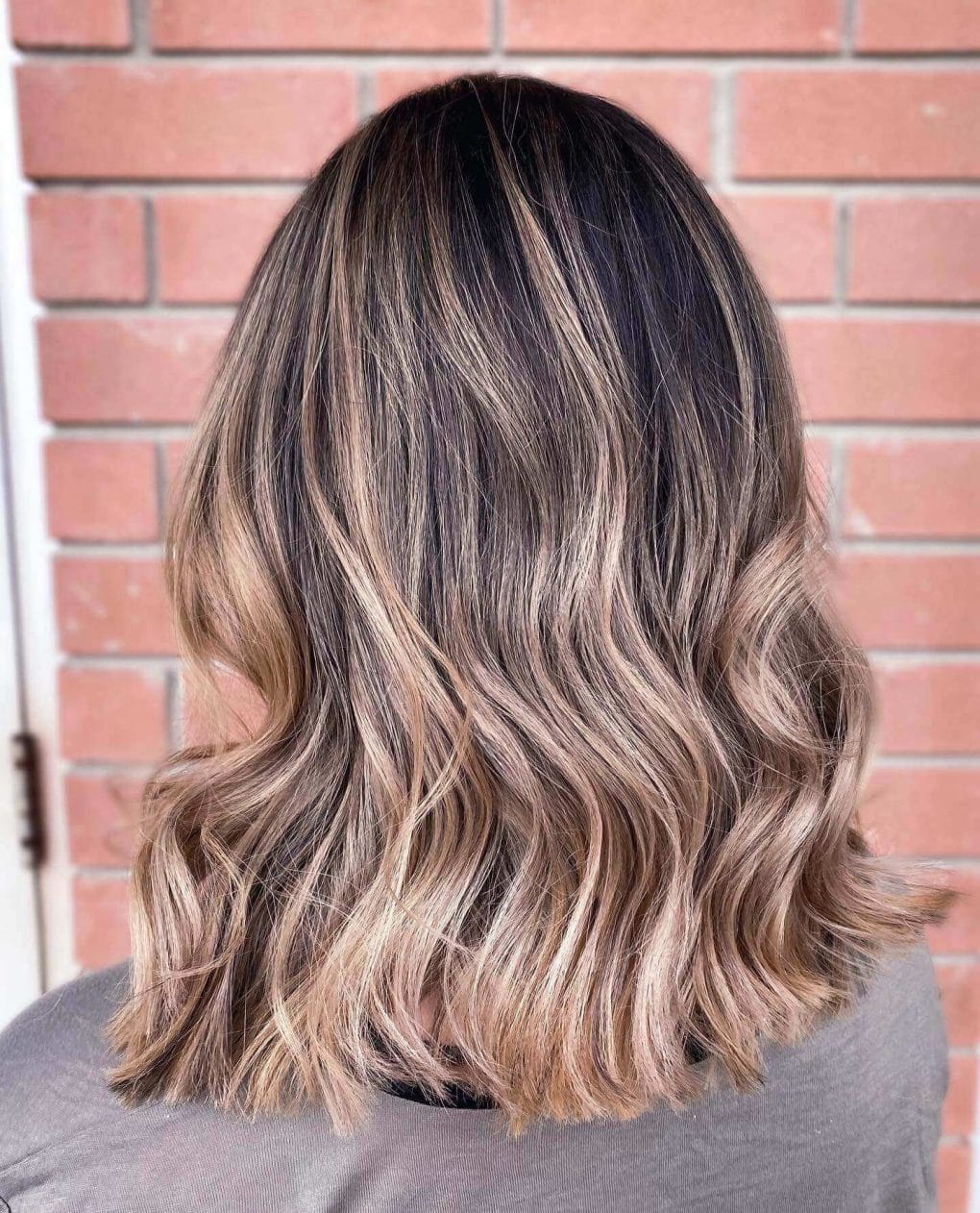 #1 Chic Mid-Length Lob with Seamless Layers and Volumizing Texture
This chic cut is a mid-length lob, textured with seamless layers to add volume and movement, perfect for someone looking to freshen up their look without going too short. The color transitions gracefully from a deep brunette at the roots to a soft, honey balayage that brightens the ends, giving a sun-kissed effect that's effortless to maintain. For those considering a new style, this versatile cut can be easily swept into beachy waves or styled straight, making it a fashionable yet practical choice for your next hair transformation.