The Italian Bob is more than just a hairstyle. For me, as a seasoned hairstylist, it's a testament to how classic styles can be reborn and made modern again. Whenever I craft this look for a client, I'm reminded of its charm, versatility, and undeniably chic feel.
The Essence of the Italian Bob
Having given countless Italian Bobs over the years, I've come to appreciate its unique features. It's a hairstyle that sits elegantly between the chin and the shoulders, carrying with it the echoes of the '60s, with a thick and full texture that screams glamour. Here's what sets the Italian Bob apart:
Length and Texture: Perfect for those wanting a style that adds texture and movement to even the thickest of tresses.
Bangs and Parting: This is a customizable feature. While a deep side part amplifies the look's volume, thick, blunt bangs can heighten its chicness.
Volume and Finish: What's unmistakable about this look is its volume. Finish with blunt ends for added fullness or leave it slightly tousled for a relaxed vibe.
My Personal Touch: Styling the Italian Bob
When I'm at the styling station, armed with my arsenal of hair products, the Italian Bob is pure joy to style. Some insider tricks I've accumulated include:
Products to the Rescue: I swear by Biotera Styling Mousse for volume, and for that breezy touch, nothing beats the White Lotus Texture Spray. Of course, for those unruly days, a dash of Moroccanoil smoothing serum works wonders.
Techniques to Swear By: Air drying is my go-to for a natural finish. But for a touch of sophistication, soft waves with a curling iron and a deep side part never fail.
Fun Fact: The term "Italian Bob" was popularized by The Hair Bros – fellow hairstylists who have a flair for naming styles with panache!
Tailoring the Bob: Straight or Wavy
One of the joys of working with this style is its adaptability:
For Straight Hair: It's a playground for those wanting to infuse some movement. Based on face shape, the length can be adjusted to accentuate features.
For Wavy Hair: The Italian Bob shines, emphasizing the natural waves. Depending on wave tightness, the bob's length can be varied for the best visual impact.
Face Shapes and the Italian Bob
From my stylist chair, I've observed how this style flatters various face shapes:
Oval Faces: It's a playground; almost anything goes!
Round Faces: It's a great elongator, especially with added layers.
Square Faces: Softening a square jawline becomes effortless with this.
Heart & Diamond-Shaped Faces: Balance is key. Adjust length and volume to complement the features.
Pro Tip: Always consider your face shape when opting for the Italian Bob. It can enhance and balance your features in unexpected, beautiful ways.
The Art of the Italian Bob: A Stylist's Take
Ah, the Italian Bob. I've had the pleasure of shaping and sculpting this timeless beauty on countless heads, and let me tell you, it never goes out of style. The Italian Bob evokes an allure of sultry elegance, seamlessly blending the laid-back vibes of Italy's coastlines with the chic buzz of its fashion streets.
Maintaining the Italian Bob: A Labor of Love
It's true; maintaining this classic cut requires a bit of TLC. But isn't it a small price for such effortless sophistication? Let's dive into how you can keep your Italian Bob as fresh as the day you left my salon.
1. Regular Touch-ups:
I often find myself reminding clients that the Italian Bob's beauty lies in its precise cut. So, if you're flaunting this style, book those trim appointments. Personally, every time I've sculpted this look, I've advised a trim every four to six weeks. It ensures the ends stay sharp, preventing any split-ends from crashing the party.
2. Product Selection is Key:
Although it's low-maintenance, you can't play too casual. Remember, the products you use can make or break the look. As a stylist, I've always stressed the importance of using products tailored for specific hair types. Dry hair? Reach for a moisturizing shampoo. Oily strands? A clarifying shampoo should be your best friend.
3. Master the Blow-Dry:
For that effortlessly chic bounce, the round brush is your magic wand. Starting from the roots, gradually move to the tips, letting the brush dance through your hair, crafting volume and vivacity.
4. Play with Texture:
There's a certain charm in the Italian Bob when it looks a tad messy. On days when I've wanted to jazz things up, a dab of texturizing paste or a spritz of sea salt spray does wonders. It's like sprinkling a bit of Italian summer on your hair.
5. Waves? Yes, Please!:
If there's one thing I adore about this cut, it's its adaptability. Got natural waves? Fantastic! The Italian Bob and natural waves are a match made in heaven. Whenever I've styled wavy hair, I've used a diffuser to bring out the natural ripples, giving the cut a more organic appeal.
Fun Fact: Did you know that the Italian Bob, despite its modern allure, traces its origins back to the stylish streets of Rome in the 1960s?
Pro Tip: If you're trying to make your Italian Bob stand out, consider adding subtle highlights or a balayage. The added dimension elevates the look, making it truly a cut above the rest.
In a world of evolving hairstyles, the Italian Bob stands out as a testament to timeless beauty. It's a style I love crafting and one I believe captures the essence of chic, Italian flair.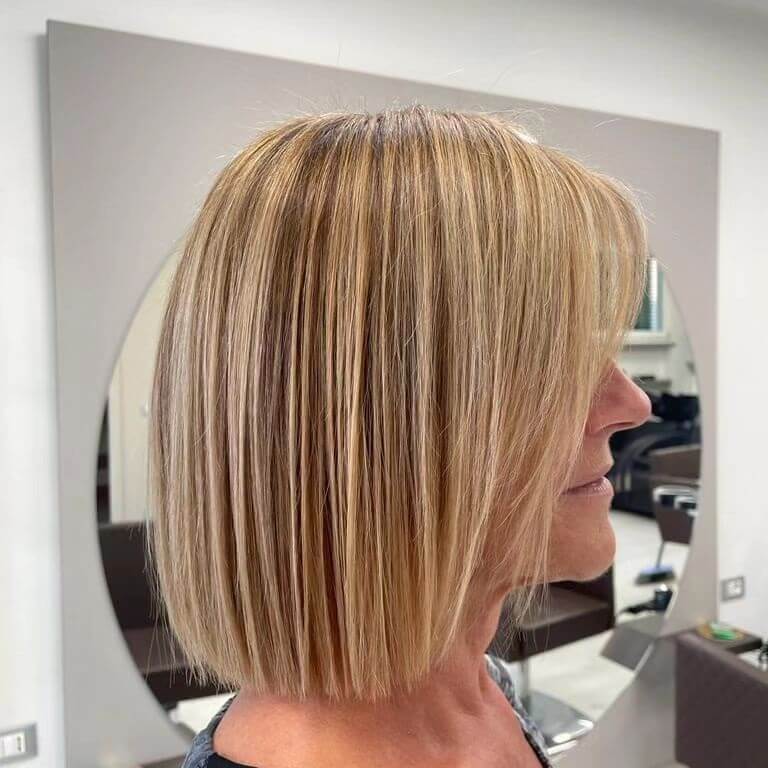 #1 Elegant Italian Bob with Honey and Platinum Highlights
Discover the elegance of this Italian bob, boasting a sleek, straight cut that graces just above the shoulders. It features a stunning blend of honey and platinum highlights for a multidimensional look. Precise, blunt ends give it a classic edge, while a subtle side parting allows for a smooth, face-framing sweep. It's a sophisticated choice for anyone looking to combine grace with an easy-to-manage style.