I've spent years behind the chair, shaping, cutting, and perfecting the art of the bob cut. And if there's one variation that has an undeniable allure, it's the layered bob haircut. While the classic bob remains a staple in many wardrobes, adding layers breathes a new life into the style—giving it volume, texture, and movement.
The Art of Layering: What's the Buzz About?
Think of a layered bob as the chic, sophisticated cousin of the traditional bob. The layers, whether subtle or dramatic, work wonders. Shorter ones inject volume and sass, while longer layers add that flowy movement every woman adores. What's incredible is how these layers can be tailor-made, ensuring they complement your unique facial features and hair type.
The Many Faces of the Layered Bob
Being in the salon day in and day out, I've had the privilege to craft various forms of the layered bob. Here are the three main types that women often request:
Short Layered Bob: Perfect for those who are on the go and want something chic yet effortless. Especially flattering for fine hair, as it adds that needed bounce and texture. And trust me, it draws attention to the neck and shoulders, making it super sensual.
Medium Layered Bob: The middle ground – not too short, not too long. This bob shines with thick hair, providing that lush, voluminous look. Just below the shoulders, it's versatile and radiates a certain youthful energy.
Long Layered Bob: The go-to for ladies wanting a bit more length. Especially divine for wavy or curly-haired beauties. It gives that beachy, carefree aura while still keeping things sophisticated.
But remember, every layered bob is like a bespoke dress—it needs to fit YOU. A seasoned stylist (like yours truly) would assess your face shape and hair type to craft a masterpiece.
Fun Fact: Did you know the bob haircut dates back to Ancient Egypt? Cleopatra herself sported a version of it. Talk about timeless!
Choosing Your Layered Bob
For Your Face Shape:
Oval face: You're in luck! Almost any layered bob complements an oval face. My personal favorite? A chin-length bob with soft face-framing layers.
Round face: Opt for a bob that's slightly elongated at the front. It visually stretches out the face.
Heart-shaped face: Layers starting at the chin are your best bet, balancing out that lovely wide forehead and narrow chin.
Square face: Wispy, soft layers will counterbalance the strong jawline, creating a harmonious look.
For Your Hair Type:
Fine hair: Choppy layers introduce that voluminous texture.
Thick hair: Longer layers can tame the bulk, accentuating your hair's natural flow.
Coarse hair: Shorter layers add softness and a playful movement.
Thin hair: Starting layers at the chin can create a fuller, more voluminous effect.
Styling Tips from the Trenches
Volume and Texture: Start with an upside-down blow-dry. Follow up with some texturizing spray. Voilà, instant volume!
Sleek Look: A round brush is your best friend here. Finish with a straightener for that polished appearance. Don't forget a spritz of shine spray for that radiant sheen.
Waves and Curls: A curling iron is your magic wand. Just a few twirls and you're ready to rock those waves or curls.
Pro Tip: Regular trims, every 6-8 weeks, ensure your layered bob retains its shape and vibrancy. This routine chop keeps split ends at bay and maintains the structure.
And, of course, using the right products can make or break the look. A shine spray, volumizing products, and moisturizing shampoos are some of my go-tos.
Your layered bob is more than just a haircut—it's a statement. It tells a story of elegance, style, and confidence. Embrace it, flaunt it, and wear it like the crown it is.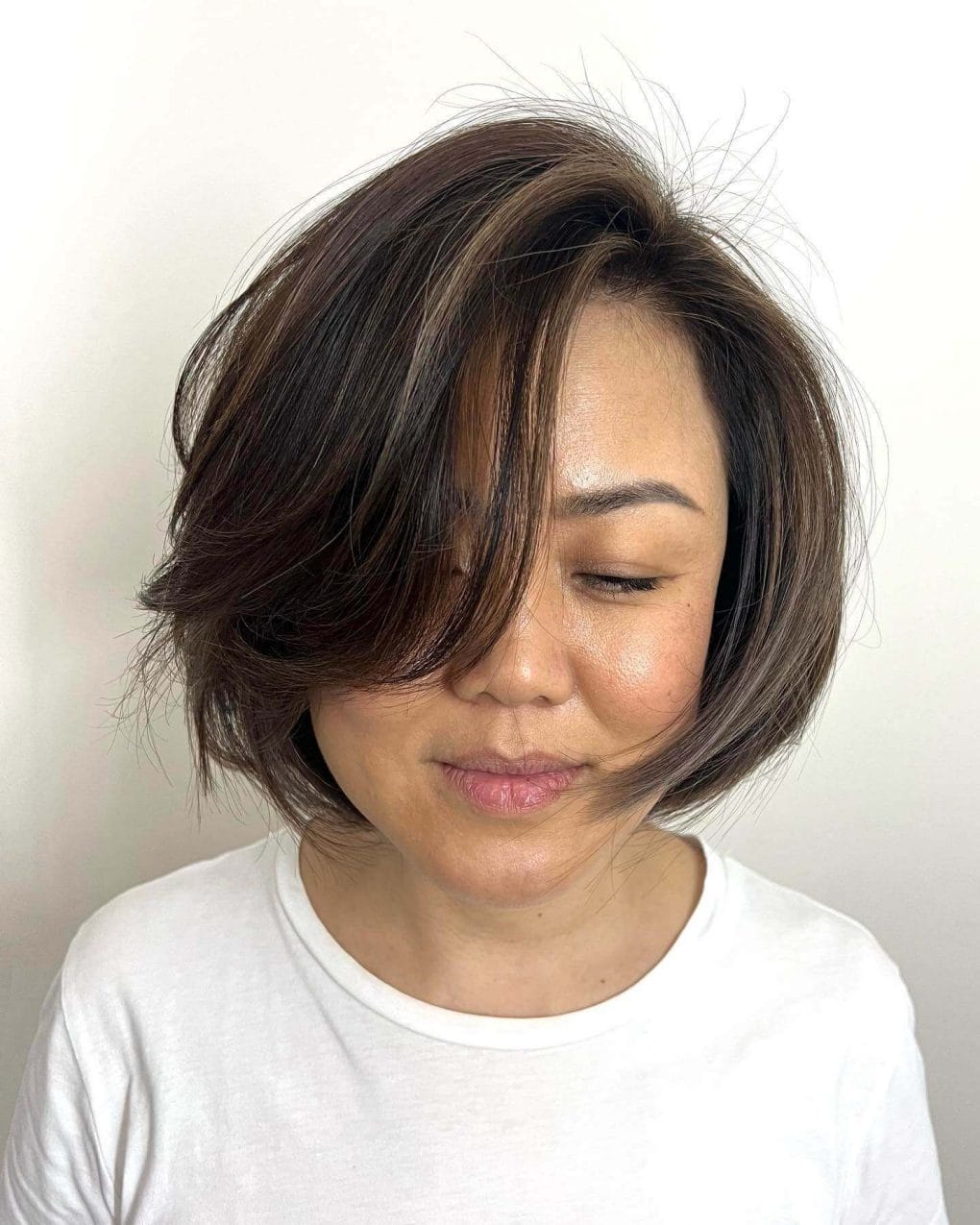 #1 Pearl Brown Highlighted Layered Bob with Side-Swept Feathers
This layered bob haircut boasts a dynamic structure with pearl brown highlights that add depth and movement. The hair is swept softly to the side, framing the face with light, feathery layers that make it a versatile choice for someone looking to freshen up their style with a chic, manageable look.