Balayage, a term straight from France meaning "to sweep" or "to paint," isn't just another buzzword in the hair world. In my years of playing with colors, cutting, and styling, balayage remains a favorite among my chair's regulars. Here's the deal: it's a freehand coloring technique, giving hair a natural sun-kissed glow. Forget the uniformity of traditional highlights; this is about artistry and individuality.
Balayage: A Hair Stylist's Dream
Balayage isn't just another trend I've hopped on—it's an art form. Having used this technique on a myriad of hair colors and types, here's what stands out:
Low Maintenance: With balayage, those quarterly salon visits can become biannual. It grows out beautifully, blending naturally with your roots, saving both time and the extra expense.
Sun-Kissed Glow: The skill lies in emulating the natural effects of the sun. The custom-painted highlights ensure every individual walks out with a one-of-a-kind look.
Soft, Dimensional Appeal: Unlike the stark contrast of traditional highlights, balayage offers softer transitions, adding depth and texture to the hair.
Fun Fact: Though it's gained immense popularity recently, balayage has been around since the 1970s. Talk about a timeless trend!
Comparing Techniques: From Foils to Ombre
When clients come asking for change, they're often overwhelmed by the choices. So, here's my quick rundown, based on hands-on experience:
Traditional Highlights: Weave, color, foil. Great for a bold look but can leave a noticeable grow-out line.
Foil Highlights: Precision with foils, more natural than its predecessor but can be a touch pricey.
Ombre: A stark transition from dark roots to lighter tips. Stunning, but over time, you might spot that grow-out line.
Foilayage: The best of both worlds! Foils meet balayage artistry. It's a tad time-consuming but worth the effort.
Pro Tip: If you're torn between balayage and ombre, remember: balayage offers a more naturally blended look, while ombre goes for a distinct color shift.
Choosing Your Balayage Shade
Matching the right balayage shade with skin tone is where the magic happens. Through my years, I've developed a keen eye:
Warm Skin Tones: Shades like honey blonde or caramel add a radiant warmth.
Cool Skin Tones: Ash blonde or platinum lend a harmonious contrast.
Tailoring Balayage for Hair Types
Regardless of your hair type, there's a balayage method for you:
Curly Hair: It demands a technique like "pintura", where each curl gets individual attention. No curl left behind!
Textured Hair: "Zone coloring" is the game, with color applied section by section, ensuring an even hue.
Hair Length: For my short-haired lovelies, "babylights" offer delicate highlights. Meanwhile, "teasylights" work wonders on longer tresses, giving a natural blend.
Trending Balayage Styles
The sun streaming through the window, the soft hum of the dryer, the gentle pull of the brush on wet locks — this is my world. Every day, I'm given the beautiful task of transforming hair. And amidst the whirlwind of colors and techniques, balayage has a special place in my heart.
Balayage. A term that not only represents a technique but an art form. And although it's been a part of the hairstyling repertoire for quite some time, its charm never fades. It's like that vintage leather jacket — always in style, always turning heads.
Breaking Down the Balayage Buzz
Over the years, I've had countless chairs filled with eager clients looking to catch this sun-kissed wave. Let me take you through some of the signature balayage styles I've had the pleasure of crafting:
Face-Framing Balayage: Think of it as makeup for your hair. Just as a dash of highlighter brightens your cheeks, this style adds shimmering strands around the face. Perfect for those dipping their toes into the balayage world without diving deep.
Babylights Balayage: Inspired by the natural streaks children often sport, I use a delicate hand to weave fine, luminescent highlights throughout. It's the go-to for those craving a touch of sun without the full-on summer hair.
Full Balayage: For the bold and the brave! Covering the entire mane, this technique is all about drama and dimension. It's like giving your hair a full-blown, nature-inspired makeover.
Subtle Balayage: Not everyone wants to shout. Some prefer to whisper. And for them, I craft this natural, nuanced style that's all about gentle shimmer and understated elegance.
Sombré Balayage: Think of the soft fade of dusk or dawn. That's the essence of Sombré — a gradient glow, a subtle transition from light to deep.
Caring for Balayage Hair
Having crafted countless balayage looks, I've seen the highs and the occasional lows. So, if you've got or are contemplating this style, here are some golden nuggets:
Ditch the Sulfates: Opt for sulfate-free shampoos. They're gentle on colored tresses and help preserve that radiant hue. And when you rinse, lukewarm water is your best friend. Trust me, your locks will thank you.
Be Heat Smart: Love your straightener? Can't live without that curling wand? No judgment here. But always, ALWAYS use a heat protectant. It's like sunscreen for your hair.
Regular Root Touch-Ups: Balayage is like any relationship — it needs a little upkeep. As your hair grows, keep those roots looking fresh and seamless. And if you're feeling adventurous, DIY can work. But always, always read those instructions.
Mask it Up: Weekly hair masks are like spa days for your hair. Especially for balayage-treated tresses, these potions can work wonders, offering hydration and repair.
Tone to Perfection: Unwanted brassiness creeping in? A quality toner can be your knight in shining armor, correcting and reviving thedesired shade.
In the world of hair, trends come and go. But balayage, with its timeless allure and sun-kissed charm, remains a favorite chapter in my hairstyling story. It's more than just a technique; it's a craft, a passion, and an expression.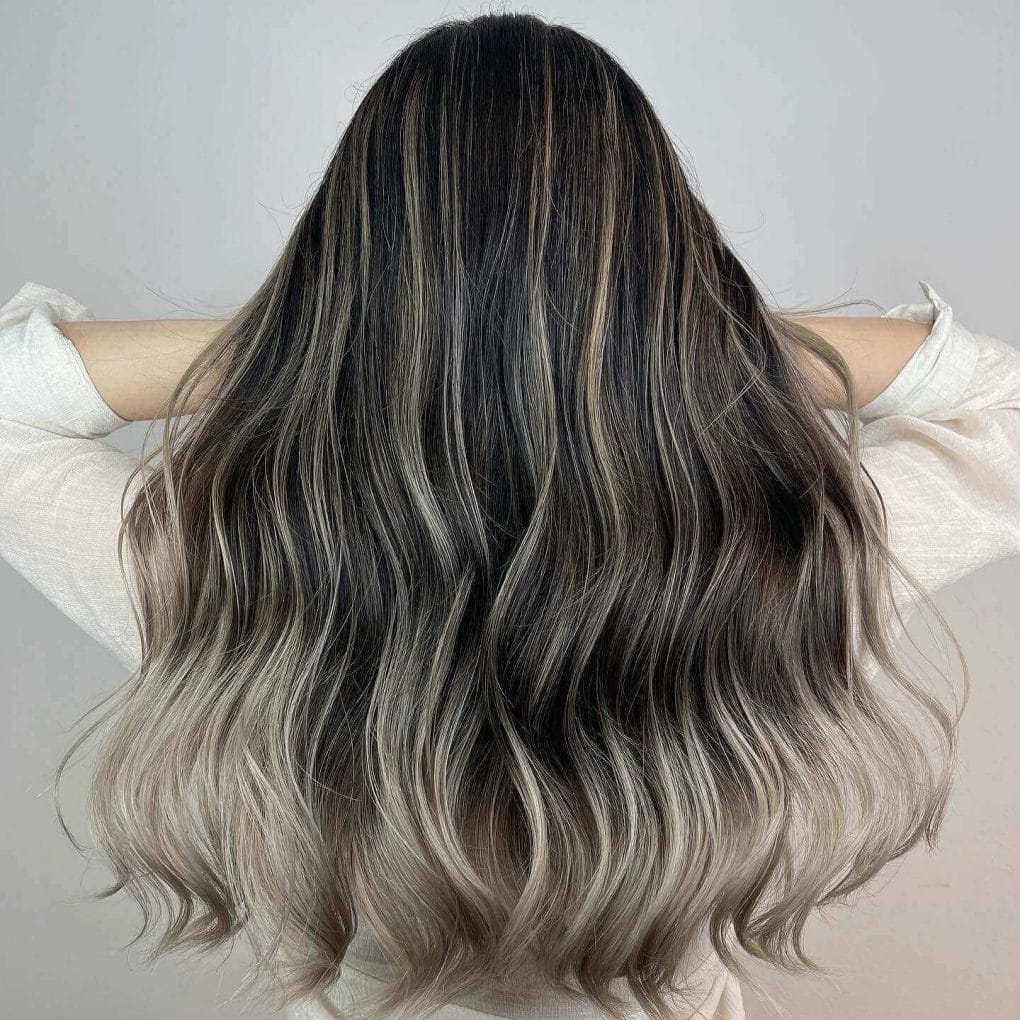 #1 Effortless Ash Blonde Balayage with Soft Waves and Voluminous Layers
This hairstyle features a gorgeous ash-blonde balayage that perfectly transitions from a dark root to lighter ends, creating a seamless ombre effect. It's styled with soft waves that add movement and depth, enhancing the multi-tonal highlights. There are no visible bangs, allowing the balayage to take center stage, and the hair is cut in long, flowing layers that give it a voluminous, beachy look. If you're searching for a hairstyle that's modern and can lighten up your look without constant touch-ups, this low-maintenance and stylish balayage ombre is a fabulous choice.