Oh, how the world of hair has evolved over my years behind the chair! One trend that's making quite the splash lately? Short hair with a perm. Let me take you through a journey of transformation, texture, and personal touch that these styles bring, along with some of my cherished insights from years of hands-on experience.
A Throwback Making a Comeback
Remember those days when perms were the rage? Well, they're back, but with a modern twist. My clients often come in longing for a stylish, low-maintenance look. Enter the short permed haircut. It's a genius combination that brings volume, bounce, and that certain je ne sais quoi without the endless hours of primping.
Types of Perms for Short Hair
Let's unravel the most common types of short haircuts with a perm and discover the perfect curl for you.
Pixie Cut Perms
This style has my heart! As a stylist, I've played with the pixie cut, adding those intricate curls that create a tousled texture. It's an edgy wonder for those with slim faces and angular features—imagine balancing out sharp cheekbones with those playful curls.
The Permed Bob
Ah, the evergreen bob, but this time with a curled twist. Think of soft, cascading curls bringing life to an otherwise straight canvas. For clients wanting a blend of classic and contemporary, this one's a dream.
Diving into the Types of Perms
There's a smorgasbord of perm styles, and choosing one feels like being a kid in a candy store. Each has its unique charm, and here's a peek into the most popular ones from my salon chair.
Wavy Perm
Imagine gentle, beachy waves—the kind you'd get after a day by the sea. This has been a go-to for my fine-haired clients, as it adds just the right amount of body. Pro-tip: For longer-lasting waves, a curl-enhancing shampoo does wonders.
Spiral Perm
For those looking to make a statement, the spiral perm is your mate. Creating tight, corkscrew curls, this style's drama and volume suit thick-haired divas. However, a little heads-up, it needs some tender loving care to prevent frizz.
Loose Wave Perm
Subtlety is the name of the game here. For clients who don't want a dramatic shift but a hint of texture, the loose wave perm has been a godsend. It's particularly flattering on those with straight or slightly wavy hair.
Body Wave Perm
Seeking to infuse some life into limp hair? This is where I've seen the body wave perm work magic, especially for fine or thin hair.
Digital Perm
Modern problems need modern solutions! Using temperature-controlled hot rods, the digital perm offers long-lasting curls, particularly for thick or coarse hair.
Root Perm
For that extra lift right from the roots, especially for my clients with flatter hair, the root perm has been a revelation.
The Show-Stopping Perm Hairstyles
I've had the pleasure of crafting many a hairstyle in my salon. Here's a taste of the crème de la crème:
Permed Bob: The embodiment of timeless elegance.
Curly Bob: A sassy mix of fun and flair.
Pixie Cut with Perm: For the bold and adventurous.
Short Hair Mullet Perm: A contemporary twist to a classic, marrying short front layers with longer, curly back locks.
Curly Mohawk: Channeling the inner rockstar!
Picking the Right Perm for Your Hair Type
Every hair type has its quirks. From my palette of experiences:
Curly Hair: A spiral perm beautifully enhances those natural curls.
Straight Hair: Body wave perms add that desired dash of movement.
Thin Hair: Root perms give that enviable fullness.
Thick Hair: Loose wave perms tame the mane stylishly.
Gray Hair: A body wave not only boosts texture but subtly masks those silver strands.
Fun Fact: Did you know the first-ever perm was done using a mixture of cow urine and water? Thankfully, we've come a long way since then!
Every day, as I drape my clients under the cape and begin the transformation, it's a blend of art and science. With every snip and curl, I aim to craft a masterpiece, ensuring they walk out feeling as fabulous as they look. A perm on short hair isn't just a style; it's an experience, one I've been thrilled to be part of time and again.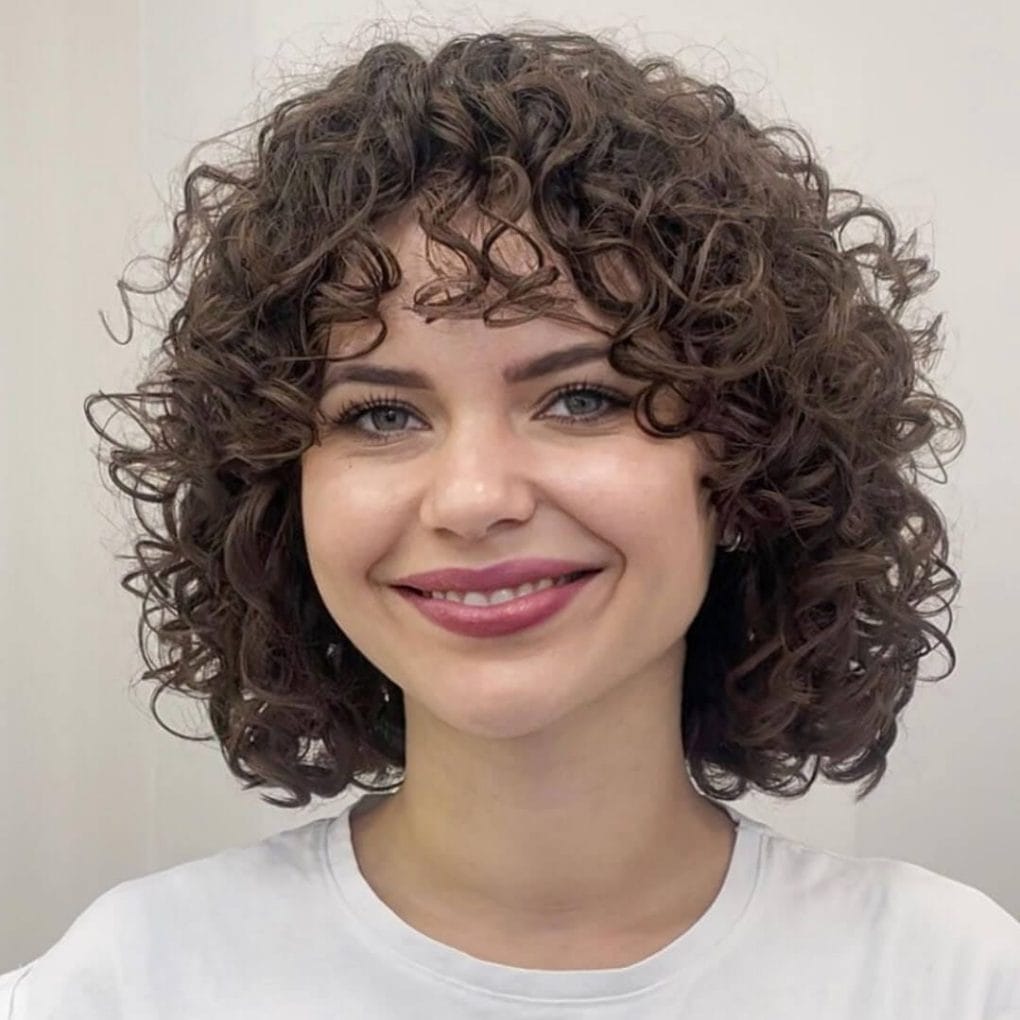 #1 Chin-Length Bob with Playful Bouncy Perm Curls
A chin-length bob enhanced with soft, bouncy curls. The hairstyle showcases a voluminous crown, with the curls becoming tighter and more defined as they reach the ends. The playful spirals frame the face, giving emphasis to facial features. This style is perfect for those looking to add some fun and texture to their short hair. For maintenance, using curl-enhancing products will keep the locks defined and frizz-free. Those considering this look should consult their stylist to achieve the best curl pattern suited for their hair type.