Ever had the feeling that your hair needs a change, but you're not sure what? Let me introduce you to the V-shaped haircut, a style I've championed in my salon for years. This signature cut provides layers that beautifully taper into a "V" at the ends. From my hands-on experience, it's a cut that suits both long and short lengths, offering both dimension and flair.
Why I Love Crafting the V-Shaped Haircut
From the many heads of hair I've transformed, here's what makes the V-cut stand out:
Dimension and Movement: This cut breathes life into hair. The angled layers give depth and a playful bounce that feels so natural.
Perfect for the Thick Haired: Those with thicker hair often struggle with weight and manageability. The V-cut lifts off some of this heaviness, giving the hair a light, voluminous feel.
Versatility: Whether it's straight, wavy, or curly locks walking into my salon, the V-cut adapts. By adjusting the depth and layering, I've crafted V-cuts for all hair types, and the results are always stunning.
Graceful Growth: Over time, I've noticed how gracefully this cut grows out. Unlike abrupt, blunt cuts, the V retains its shape for longer, meaning fewer trips to see me!
Style Flexibility: The V-cut is like a chameleon. Whether you're aiming for waves, straight strands, or a chic updo, this cut complements them all.
Fun Fact: Did you know the V-shaped cut originated from the desire to mimic natural hair growth patterns while adding a modern twist?
Styling the V-Cut: An Artist's Take
Crafting the Cut
As a hairstylist, the thrill for me is in the creation. Here's a sneak peek into my process:
Find the Length: Before diving into the V, it's essential to establish the base length. For the perfect V, I recommend shoulder-length or longer.
Embrace the Layers: The magic is in the layers. As I snip away, layers upon layers come to life, setting the stage for the V.
The Grand Finale – The V-Cut: Using point cutting, a technique I've honed over years, I shape the ends into that iconic V.
Styling Tips: From My Salon to Your Home
Go Sleek: A flat iron, some heat protectant, and you've got a sleek, straight look. Don't forget a shine serum to seal the deal.
Waves for Days: A curling iron focused on the mid-lengths and ends, and voila – soft waves that flow with every move.
Curly Girly: For those blessed with natural curls, work with them. A diffuser and some curl cream can enhance and define those spirals.
Braids and Ties: Oh, the fun I've had styling V-cuts into braids! Fishtail braids, Dutch braids – the options are endless.
Pro Tip: To maintain the sharpness of the V-cut, book in for a trim every 6-8 weeks. This keeps the ends looking crisp and the layers defined.
Making the V-Shaped Haircut Shine
Over time, I've learned that the key to this cut's longevity is all about maintenance. So, let me share some secrets from behind my salon chair:
Regular Trims: This cannot be stressed enough. Every 6-8 weeks, come in for a little snip to ensure the sharpness of the 'V' and prevent those pesky split ends.
Masterful Styling: While blow-drying, a round brush is your best friend. It'll give your V-cut the volume and polished finish it deserves. Occasionally, I'll use a flat iron to add definition to those gorgeous ends.
Heat Protection: Before I let any heated tool near your hair, I always spritz on a heat protectant spray. It's like sunscreen but for your locks.
Product Savvy: In my toolkit, I opt for products that boost volume and texture without making the hair feel heavy. Weighty products can make this style fall flat, quite literally.
A Dash of Color: The V-shaped cut and color go hand in hand. By adding a touch of color, like highlights or balayage, you can uplift the entire look.
Marrying Color with the V-Cut
It's not just about the cut; it's about the color. Finding the right hue to complement that V can truly elevate the look:
Auburn Frame: One of my favorite ways to enhance the V-cut is with an auburn shade. The warm undertones can beautifully frame your face and add some drama to the look.
Tousled Brown: A natural brown with some tousles can offer a breezy, easy-going vibe. It's simple yet significant, and absolutely splendid for the V.
Mahogany Magic: Every now and then, I meet someone adventurous. For them, I suggest a mahogany shade. The blend of red and brown makes for an exquisite statement.
Chocolate Delight: Chocolate brown is timeless. It's rich, warm, and pairs wonderfully with the V-cut, making your hair look lush and voluminous.
Pro Tip: When considering a V-cut, always keep in mind your hair's natural texture. This cut shines the best when it works with, not against, your hair's natural flow.
In the ever-evolving world of hairstyling, the V-shaped cut remains a classic. Its adaptability, combined with the right color and care, can create a head-turning look. And as someone who's crafted countless V-cuts, trust me, it never goes out of style.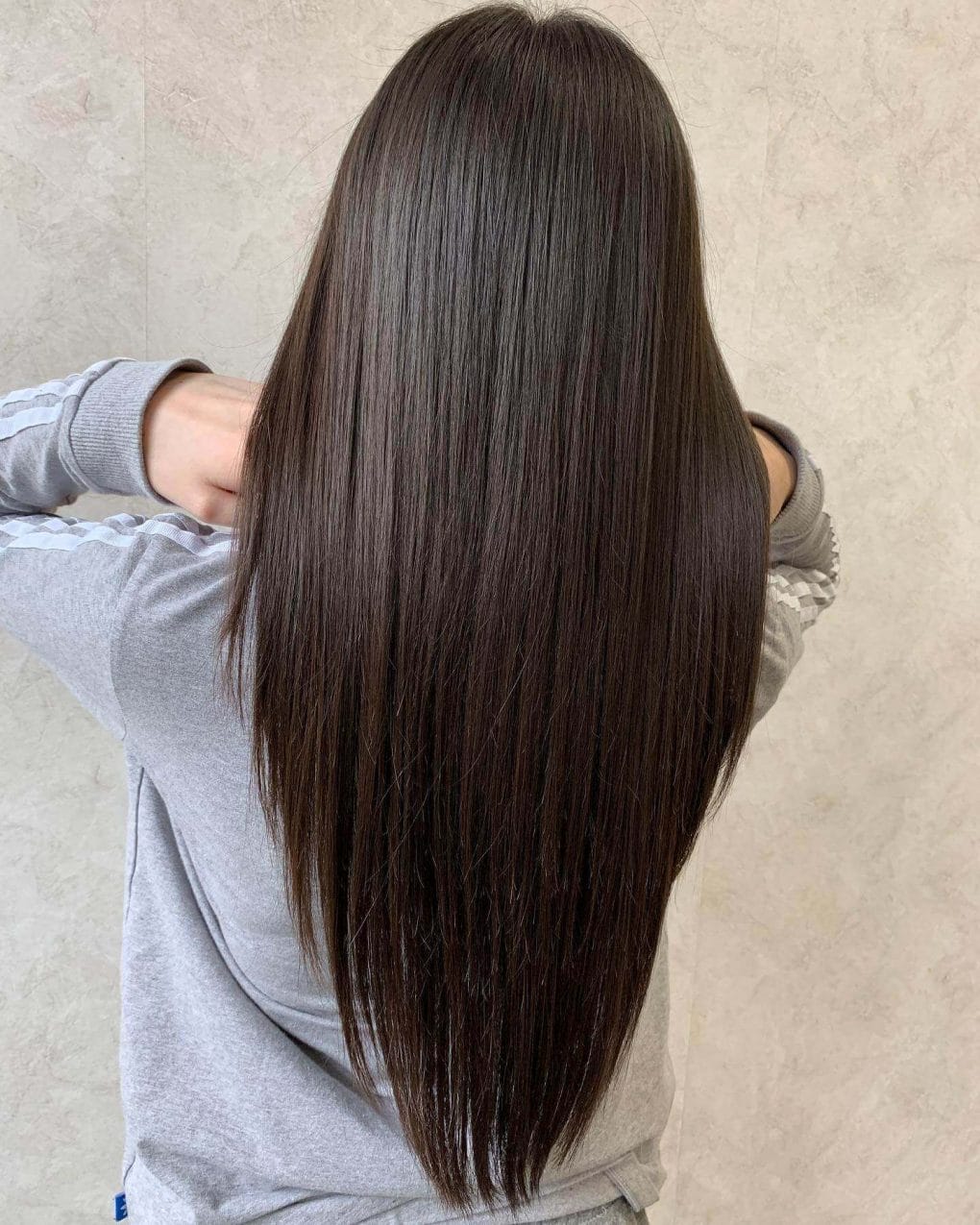 #1 Stunning Straight: Long V-Layered Brunette
The Stunning Straight hairstyle is a perfect choice for those seeking a sophisticated look. This style features long V-shaped layers that add depth and dimension to straight brunette hair. For an added touch, consider using a shine serum to achieve that radiant glow.