The first time I laid my hands on a client requesting a butterfly haircut, I remember the mixture of excitement and nervousness I felt. Fast forward to today, and I've perfected the art, crafting this style for numerous clients. Allow me to share my journey and expertise on this gorgeous hairstyle that is redefining beauty standards.
The Art of the Short Butterfly Haircut
When we talk about short butterfly haircuts, it's the elegance of a butterfly we aim to capture, sculpting the hair to mimic the creature's ethereal wings. The design frames the face, creating a silhouette where the sides are slightly longer than the center, akin to butterfly wings.
Regardless of your hair type or face shape, this style can be tailored just for you. Got fine hair? The layers of this cut add a dreamy volume. Round face? The cut shapes it up to present a balanced aesthetic. Every time I complete a butterfly cut, I feel a surge of satisfaction, seeing the newfound confidence in my client's eyes.
Why I Love Crafting the Butterfly Cut
I must admit, short butterfly haircuts hold a special place in my heart. The layering, the texture, the myriad of styling possibilities – it's an artist's dream! Whether you're feeling a straight look, wavy vibes, or sultry curls, this cut supports it all.
And here's a fun fact: Did you know that the butterfly haircut originated from bohemian trends emphasizing natural beauty?
Maintenance? Oh, it's a breeze! A dash of texturizing spray or perhaps a swift round-brush blow-dry, and you're runway-ready. Unsure about the cut? Always bring inspirations to your hairstylist (like me!). We love visual aids and collaborating to ensure you leave with a smile.
Mastering the Butterfly Haircut Style
Throughout my years, I've developed a few go-to techniques to enhance the butterfly cut:
For the Volume Lovers:
Pre-style with volumizing mousse on damp hair.
Blow-dry using a round brush, emphasizing the roots.
Pro-tip: For added volume, embrace velcro rollers while drying.
Gentle backcombing at the roots seals the voluminous deal.
Butterfly Cut with Bangs:
Curtain bangs? Side-dry them with a round brush.
Side bangs? Go straight with a flat brush.
A curling iron can add flair and texture to your bangs for that perfect look.
Craving Movement?
A heat protectant spray shields as you style.
Round brush blow-dry, with twists for feathery layers.
Loose waves with a curling iron amplify the effect.
For the Textured Adventurers:
Start with a texturizing spray on damp hair.
Focus on feathery layers as you blow-dry.
Boost texture further with loose waves from a curling iron.
Butterfly Haircut Across Face Shapes
Round Faces:
Opt for volume on top and shorter layers near the chin. Incorporate face-framing layers to spotlight your cheekbones and jawline, refining your overall silhouette.
Other Face Shapes:
Square Faces: Rounded, soft layers are your best friend.
Heart-shaped Faces: Go with longer layers to balance a broader forehead.
Oval Faces: Experiment away! But chin-focused layers can introduce a playful dimension.
The Evolution of Butterfly Haircuts
Being knee-deep in the hair industry, I've seen butterfly haircuts evolve. From the iconic platinum blonde versions, the rebellious shaggy renditions to the timeless middle-parted classics. It's heartwarming to see this style continuously reinvent itself while preserving its core charm.
In essence, the butterfly haircut is more than a trend; it's a statement, a reflection of the wearer's soul. And every time my scissors shape this style, I know I'm not just cutting hair; I'm crafting wings for my client to soar.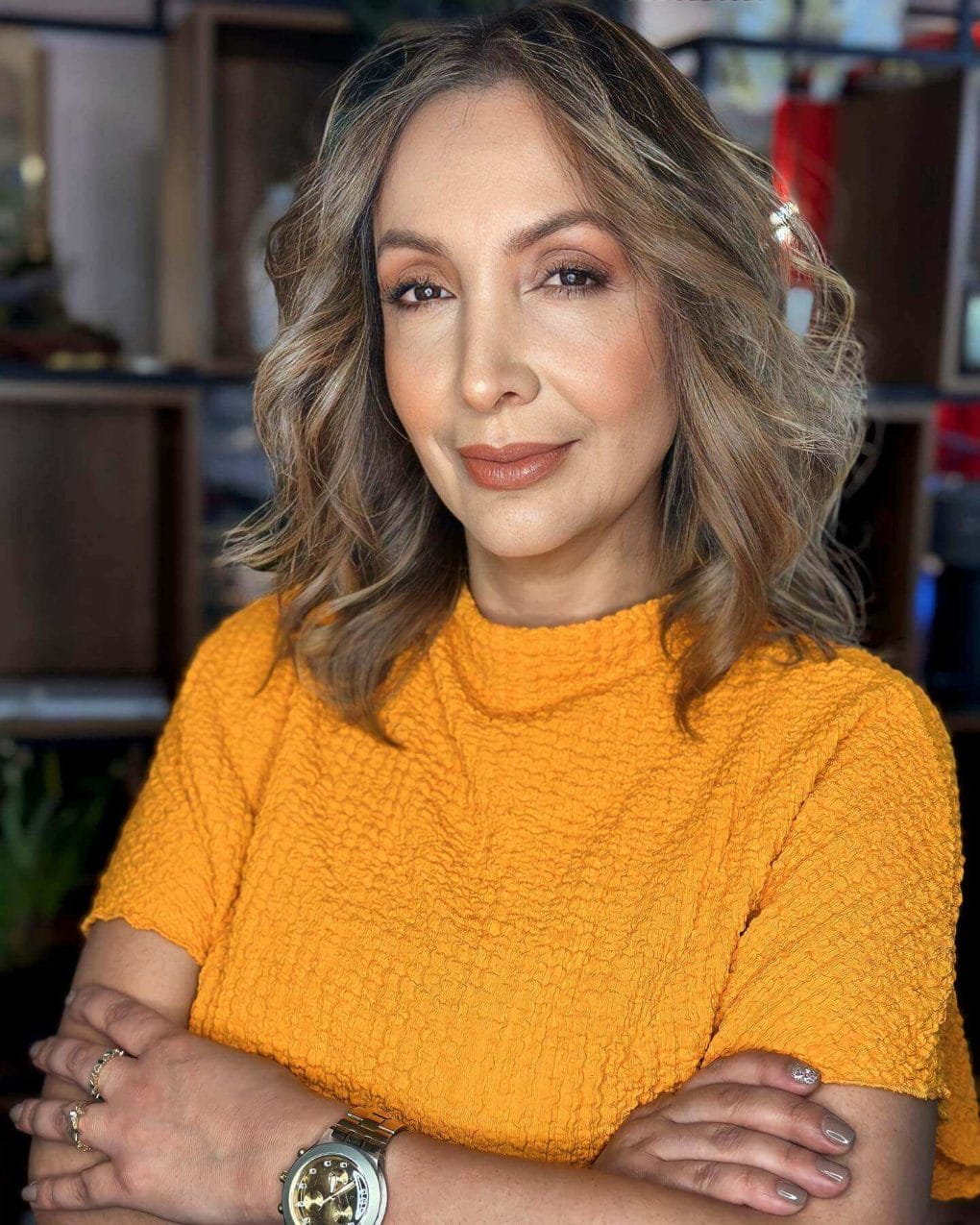 #1 Honey Blond Short Wavy Butterfly Elegance
A woman sports a honey blond butterfly haircut, exuding elegance with its wavy, short layers. The golden tones playfully dance, making the style both chic and vibrant.