Ah, the jellyfish haircut. Just when I think I've seen it all in my years of styling, a trend comes along and reminds me why I adore this industry so much.
Unraveling the Jellyfish Mystery
Ever watched a jellyfish in the water? The delicate dance of its tentacles, each move flowing with grace? Now, imagine that artistry on hair. That's the jellyfish haircut for you.
It's a fusion of the classic bob with ethereal layered waves, giving an almost surreal appearance. Short, bowl-like layers on top flow into longer, playful tendrils reminiscent of… you guessed it, a jellyfish.
Fun Fact: This style is a delightful blend of the mullet, shag, and Japanese hime cut.
When I first laid eyes on this style, I thought, "Now that's a hairstyle that'll let you express yourself." And as someone who's spent years behind the chair, crafting hundreds of styles, it's a joy to introduce a new and exciting cut to my repertoire.
Crafting the Jellyfish Magic
Every hairstyle needs a little understanding, some tender love, and the right tools. Here's the lowdown on creating that signature jellyfish look:
Texture, Texture, Texture! This style is all about the layers. I always reach for my trusty texturizing spray. For that tousled, wind-blown effect, a good sea salt spray does wonders.
Curling Iron and Round Brush: The duo that never lets me down. Loose waves? Check. Volume for the shorter layers? Double-check.
Air Dry with a Twist: Sometimes, I let the hair do its thing. Air dry but with a diffuser attachment to bring out those natural waves for a more effortless charm.
Pro Tip: Always, always use a heat protectant. It's the armor your hair needs, trust me.
Daring with Colors on the Jellyfish Canvas
Coloring is where this hairstyle turns from chic to epic! The jellyfish canvas is just begging for bold shades. Thinking of a vibrant blue or electric purple? Go for it! But remember to choose shades that play well with your skin tone. I've personally played with sunset oranges and deep ocean blues on this cut, and the results? Stunning.
Adapting the Jellyfish for All
One thing I love about the jellyfish cut? It's adaptable. Whether your hair is straight as an arrow or has bouncy curls, this style molds beautifully.
Curly Haired Beauties: The longer layers help define those curls. The top layers can add a touch of volume without making your hair a fluffy cloud.
The Straight-Haired Squad: The jellyfish introduces texture and movement.
For the Fine Haired: It's a volumizing miracle. Those shorter layers lift, and the longer ones dance.
Thick Hair Holders: A godsend to manage the thick tresses. Adds shape and reduces bulk.
Face Shapes and the Jellyfish Symmetry
Every face is a canvas, and the jellyfish, the paint. It flatters most shapes. Got a diamond face? Soft tendrils on the side can balance out those cheekbones. Oval faces can play with the volume on top. Round faces? Go a tad longer on the sides.
Diving into the Jellyfish Variations
In my salon chair, I've had countless clients ask for a fresh, bold transformation, and the Jellyfish haircut has often been my answer. It merges floating fringes, layered textures, and an inherent charm that screams whimsy and fun.
As with any trend, there's room for personalization. Let's explore the variations of this mesmerizing haircut:
1. Jellyfish Bob
This version remains dear to my heart. The even, shorter top layer creates a bowl-like structure, while the bottom layers, longer and flowy, mimic jellyfish tentacles. Perfect for the audacious spirit.
2. Short Bob
For those who prefer a touch of tradition, this is a spin-off. It retains the even top layer but with a shorter, more classic bob length at the bottom. It's your timeless bob with a hint of jellyfish flair.
3. Blunt Bob
Sharp. Edgy. This variation means business on the top with its blunt cut, while the longer layers below give it that playful contrast. It's the yin and yang of hairstyles!
4. Japanese Hime Cut
Drawing inspiration from traditional Japanese hairstyles, this variation intrigues me every time. The V-cut longer layer at the bottom pays homage to the classic Hime cut, fusing the East and West beautifully.
5. Mullet Style
The audacity of the classic mullet gets a jellyfish twist! Bluntly cut on top with a significantly extended bottom layer. It's retro, reinvented.
6. Butterfly Haircut
Ever envisioned the delicate wings of a butterfly on hair? This variation makes it possible. The bottom layer is intricately layered, echoing the patterns of butterfly wings.
Pro Tip: Whatever variation you lean towards, always consult with your stylist. Bring pictures, talk about your hair type, and ensure you both share the same vision.
To sum it up, the jellyfish haircut isn't just a hairstyle; it's an experience, an art form. From the moment I crafted this style on my first client to the many who followed, the joy of seeing them flaunt it with confidence reaffirms why I love what I do. So, are you ready to dive deep into this trend?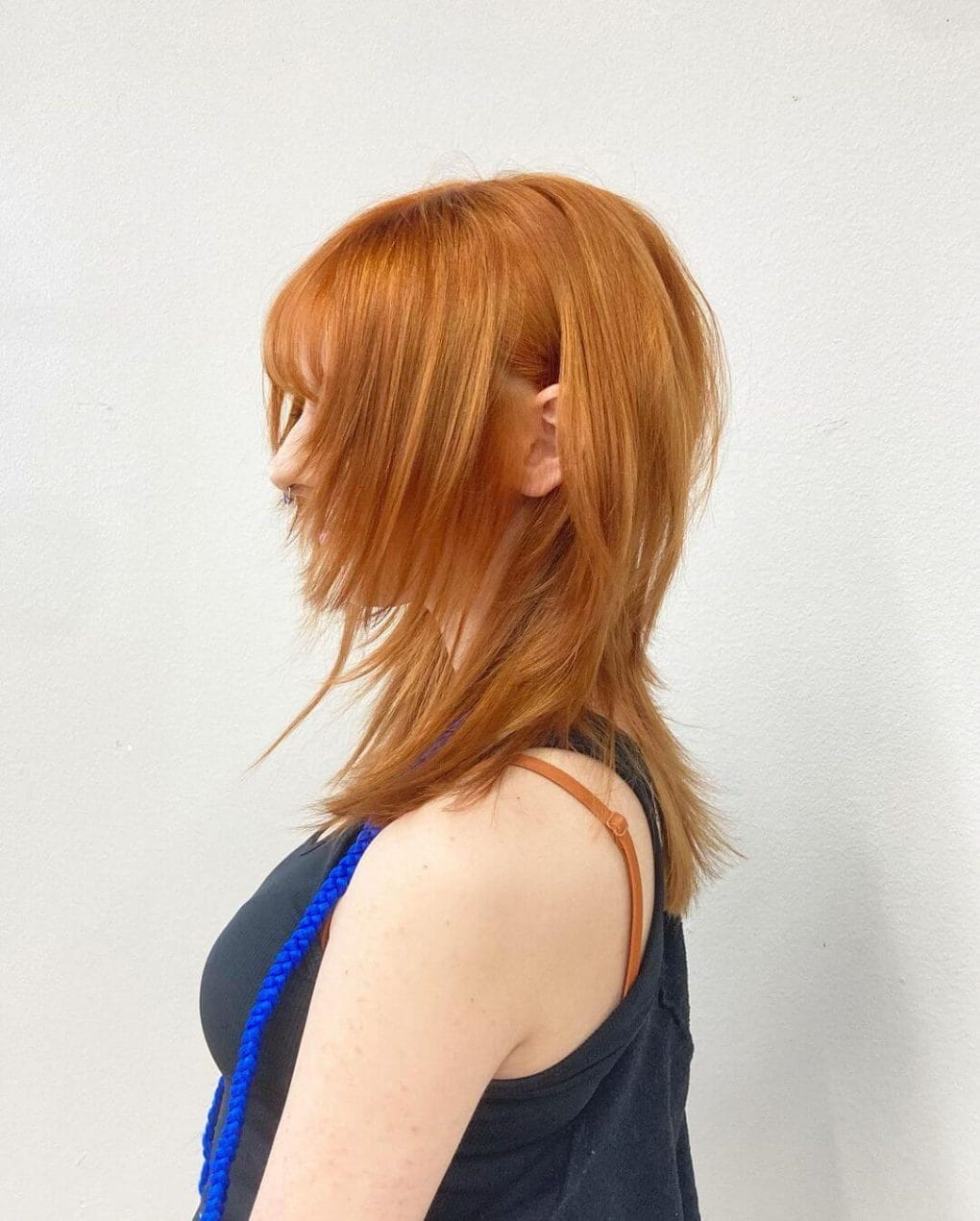 #1 Luminous Copper-Toned Jellyfish Cut with Sleek Layers and a Fine Fringe
This Jellyfish haircut comes to life with its luminous, copper-toned strands that glow with a vibrant warmth. The cut is sleek and straightforward, with a smooth flow of layers that gently curve at the ends, embracing the neck softly. A fine fringe subtly grazes the eyebrows, complementing the shape of the face. For someone seeking a style that combines simplicity with a pop of radiant color, this graceful and glowing look is a fabulous option to consider.