As a seasoned hairstylist, there's nothing more thrilling than watching a new trend evolve. And let me tell you, the long butterfly haircuts are that trend right now. The very name paints a picture, doesn't it? Just like the delicate wings of a butterfly, this haircut flutters around the face, giving that ethereal, magical look.
The Birth of the Butterfly Haircut
The first time I had the honor of crafting this style, I was struck by its beauty. Imagine layers that start short, crowning the top, and gradually grow longer, dancing towards the bottom. It gives life to hair, a multi-dimensional aspect that traditional cuts often miss.
But, why the name "butterfly"? Simply put, the silhouette these layers create evokes the wings of a butterfly. It's both poetic and accurate. And over time, I've realized that this haircut isn't just about aesthetics. It's a celebration of texture, volume, and individuality.
Fun Fact: The butterfly is often seen as a symbol of transformation. Fitting, considering how this cut can entirely transform one's look!
A Butterfly Cut for Every Hair Type
Every head of hair is a canvas, with its unique texture and story. Here's how the butterfly cut graces different hair types:
Short Hair: For shorter lengths, this cut amplifies volume. But remember, you need a certain length to truly achieve the butterfly's fluttery magic.
Long Hair: Ah, the perfect playground for the butterfly cut! The layers find their full expression, creating an illusion of both volume and length.
Thick Hair: This cut skillfully thins out the bulk, adding grace to the volume. It's like controlling the chaos.
Thin Hair: Thin hair and the butterfly cut? A match made in heaven. The layers craft an illusion of volume, breathing life into limp hair.
Curly Hair: Oh, the bounce and definition this cut brings to curls! A cautionary note, though – always trust a curly hair expert.
Straight Hair: The butterfly cut introduces movement, breaking the monotony of poker-straight hair.
Pro Tip: Always, and I mean always, trust a seasoned hairstylist to do this cut. It's an art, and not everyone wields the scissors the same way.
Butterfly Haircut Styling Secrets
Having styled numerous butterfly cuts, I've pocketed some secrets along the way:
Boosting Volume: A dollop of volumizing mousse, a blast of the blow dryer while flipping your hair upside down, and voila – volume that lasts!
Crafting Soft Waves: Embrace a large barrel curling iron. Leaving the ends out gives that perfectly imperfect look.
Enhancing Texture: A spritz of texturizing spray and a scrunch. It's beach waves without the beach.
Highlights: A sprinkle of sun-kissed highlights? They work like magic, adding depth to this cut.
Keeping the Bounce: Finish with a flexible hold hairspray, shake that mane, and let the world see it bounce!
A Butterfly Haircut for Every Face Shape
Every face has its charm, and the butterfly cut can be tailored to elevate that:
Round Face: Go for longer, face-framing layers. A side parting can add that touch of elegance.
Oval Face: You lucky ones can play around. Maybe some cheekbone-highlighting layers?
Square Face: Soft layers to soften those beautiful strong angles, especially around the jaw.
Heart-Shaped Face: Balance is key. Layers at the bottom will do wonders.
Diamond-Shaped Face: Add layers on the sides. It balances out the cheekbone prominence.
In the world of hair, the butterfly cut isn't just another trend. It's a statement, an emotion, and a transformation. As I always say to my clients, "Why fit in when your hair can stand out?" So, are you ready to embrace the butterfly?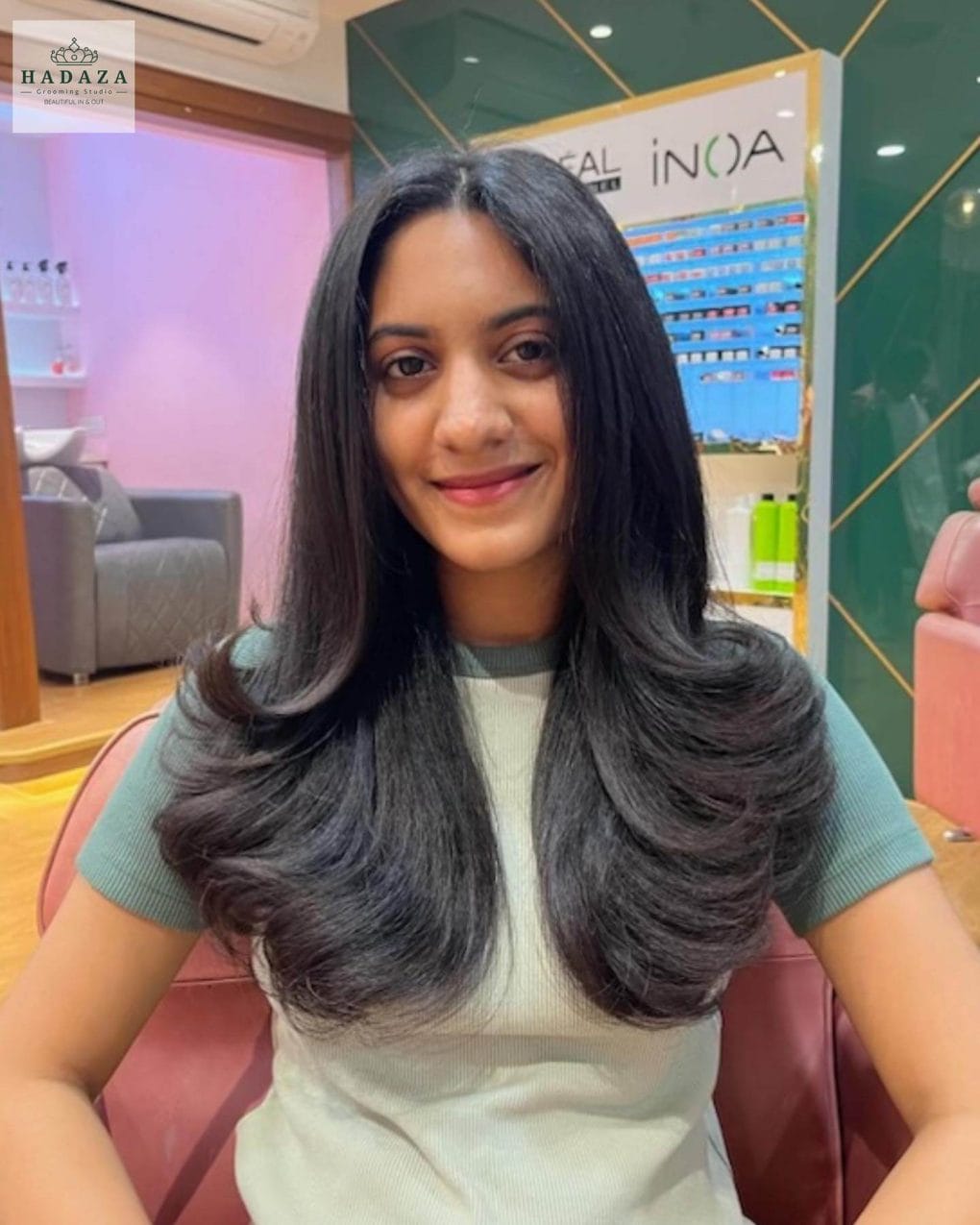 #1 Dark Hair Butterfly Cut With Short Sides and Long Middles
Choosing a Butterfly Cut on dark hair means embracing a daring yet sophisticated look. With its meticulously cropped sides and lengthy center, this hairstyle offers an enchanting juxtaposition that captures both edge and grace, making it perfect for those wanting to make a contemporary yet timeless statement.