There's something truly special about the red balayage on blonde hair. It's not just a coloring technique; it's an art form that brings a vibrant splash of color to the traditional blonde, creating looks that range from subtly sun-kissed to boldly fiery.
Red balayage involves hand-painting red hues onto blonde hair, resulting in a seamless blend that looks naturally sunlit. What I love about this technique is its versatility. Whether you're looking for a gentle whisper of red or a bold statement, red balayage can be tailored to your personal style. It's stunning on various hair lengths and textures, which makes it a go-to for many of my clients.
Choosing the Perfect Shade
The key to a perfect red balayage lies in selecting the right shade. There's an entire spectrum to choose from – from soft strawberry blondes to rich burgundies. In my chair, I often recommend shades based on skin tones. For instance, fair-skinned clients look stunning in lighter reds like burnt sienna, while deeper reds like cherry are gorgeous on darker skin tones.
Pro Tip: Always consider maintenance. Some reds may fade quicker and require more frequent touch-ups.
Maintenance: Keeping the Vibrancy Alive
Maintaining red balayage is crucial. Here's how I advise my clients to keep their color looking fresh:
Wash less often: This helps to retain the color's intensity. Wait a couple of days after coloring before the first wash.
Use color-protecting products: Specialized shampoos and conditioners for colored hair are a must.
Limit heat styling: Excessive heat can fade the color faster. When using heat, always apply a protectant.
Regular salon visits: For touch-ups and trims, to keep the hair healthy and the color vibrant.
Protect from the sun: UV rays can alter the color, so wearing a hat or using hair products with UV protection is advisable.
Styling Red Balayage Blonde Hair
Styling red balayage is where you can truly showcase its beauty. As a stylist, here are some of my favorite tips:
Beachy Waves: They bring out the dimensions of the color beautifully.
Consider your complexion: Choose styling products that complement both your skin tone and hair color.
Hair Type Matters: Long hair showcases the blend of colors wonderfully, while shorter cuts can highlight the boldness of reds.
Natural-Looking Roots: Keeping roots closer to the natural color can add depth and make the style more dynamic.
Shine is Key: A gloss treatment or shine-enhancing products can make the colors pop.
Red balayage on blonde hair isn't just a hair color; it's a statement. As a hairstylist, I find joy in bringing this vibrant, dynamic look to life. It's a technique that requires skill and an understanding of color, but the results are always worth it. Whether you're looking to add a little warmth to your blonde or go for a complete transformation, red balayage is an exquisite choice.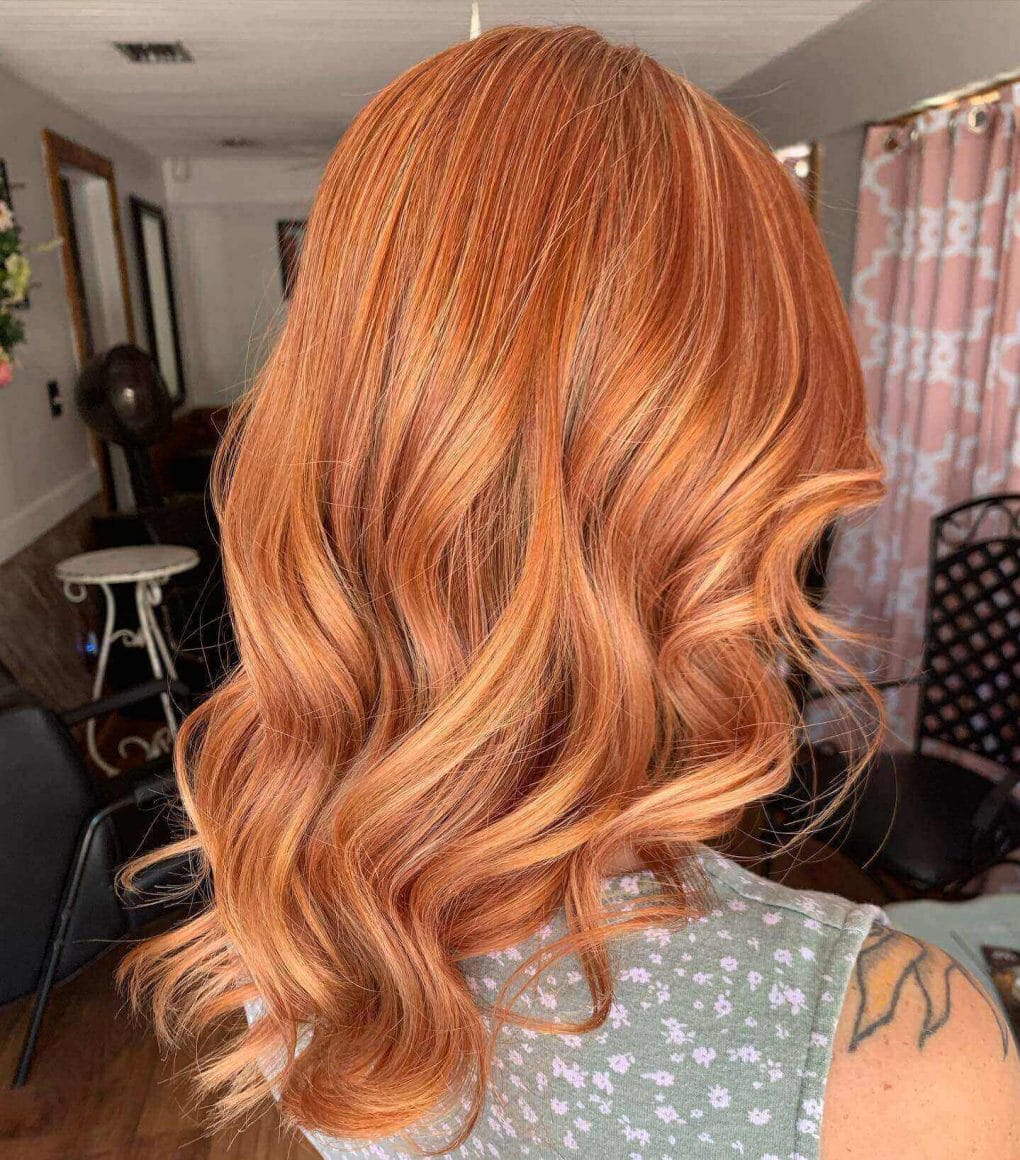 #1 SunKissed Cascade Warm Blonde to Vibrant Red Balayage Waves
This lovely hairstyle showcases a warm red balayage that transitions smoothly from a natural blonde base, giving it a sun-kissed glow with added depth. The cut falls into long, flowing layers, which encourage the waves to bounce light and create an effortlessly voluminous look. The curls are soft and touchable, styled to cascade gently, enhancing the multidimensional color. This style could be your next adventure if you're looking to spice up blonde locks with some fiery red while keeping a natural and easy-to-maintain appearance.