There's an art to embracing age with elegance. As a hairstylist who's snipped, colored, and styled countless heads, believe me when I say that the right hairstyle is your golden ticket. Over the years, I've had the privilege of transforming lovely ladies over 50, making them feel rejuvenated and radiant once more. Let me share some of my insider secrets and experiences on medium length haircuts for women over 50—the sweet spot of style and comfort.
Medium Length: The Bridge Between Two Worlds
Medium-length haircuts are like the perfect cup of latte—warm, comforting, and just the right balance. They offer adaptability between the playful length of long hair and the ease of a short cut. Especially for women over 50, these cuts have been my go-to because they beautifully frame the face while being fuss-free.
Pro tip: Always consider your hair's natural texture. Working with it, rather than against it, often results in a more authentic and manageable style.
Decoding Face Shapes: A Hairstylist's Guide
Every face tells a story. As a stylist, my job is to ensure that story is a bestseller. Here's a glimpse into my playbook for tailoring haircuts to face shapes:
Oval Face: Oh, the versatility! Almost every style is your playground. Want to play up those cheekbones? A layered bob might be your answer. For an elongating effect, side-swept bangs with longer layers do wonders.
Heart-Shaped Face: Drawing attention to those mesmerizing eyes and pronounced cheekbones is the game. Side-swept bangs paired with a layered cut are often my recommendation.
Oblong Face: The trick is to add some width. Shoulder-length cuts with layered volume at the sides have been my trusty solutions. And side-swept bangs? Magic for breaking up face length.
While these are guidelines from my stylist chair, the haircut that makes you beam with confidence is always the right choice.
Embrace Your Natural Texture
From my styling chair, a little story: Recently, I had a client with the most beautiful thick waves, but she always straightened them out. When I suggested she embrace her waves with a layered medium cut, the transformation was breathtaking. Her natural waves cascaded effortlessly, and she said she felt more "her" than ever.
Here's my texture cheat sheet:
Fine Hair: Soft curls with a layered or shaggy cut introduce volume and life. Stay away from heavy, blunt cuts—they could be a flat-hair trap.
Thick Hair: A layered medium cut helps in taming the volume. Adding soft waves can induce a lovely movement.
Curly Hair: Curly queens, a bob or layered cut can amplify those natural ringlets. But beware of too short or too blunt—it could head towards the frizz avenue.
Wavy Hair: Natural beachy vibes? Layers enhance those waves beautifully. Channel your inner mermaid!
Bangs: The Youthful Flourish
Bangs can be the sprinkle of youth to your look. Having crafted many a bang on clients, I can vouch for their transformative power.
Curtain Bangs: They're like a beautiful frame for your face, especially if you've got those round features. These bangs can beautifully elongate and bring a touch of softness.
Side Bangs: These are timeless. Great for those with longer faces, as they can bring a balancing act to your facial symmetry.
Wispy Bangs: A soft feathered look that's perfect for those wanting a more relaxed touch.
Choppy Bangs: Modern, edgy, and spunky. These bangs are all about a statement. If you've got a diamond-shaped face, these bangs can soften pronounced cheekbones and bring balance.
Fun fact from the stylist's chair: Did you know that bangs have been a popular hair feature for centuries? Ancient Roman women sported "fringe" as a sign of modesty and femininity. Today, it's a fashion-forward statement that oozes confidence.
Trust Your Stylist and Yourself
Over my years of being a stylist, I've realized that while trends come and go, true style is timeless. It's about finding what resonates with your essence and comfort.
A hairstyle, especially a medium-length one, is more than just hair—it's an expression, a mood, a statement. When you sit down in my chair, my aim is to ensure you rise with a bounce in your step and a smile on your face. But always remember, the real secret sauce is you. Your confidence, your grace, and your story.
Here's a stylist's tip to wrap up: Before getting a haircut, always have a chat with your stylist. Share your daily routine, hair woes, and even a bit about your personality. Trust me, these little details often lead to the most personalized, perfect cuts.
Embrace every strand and every age. Because 50 or not, you've still got that fabulous flair!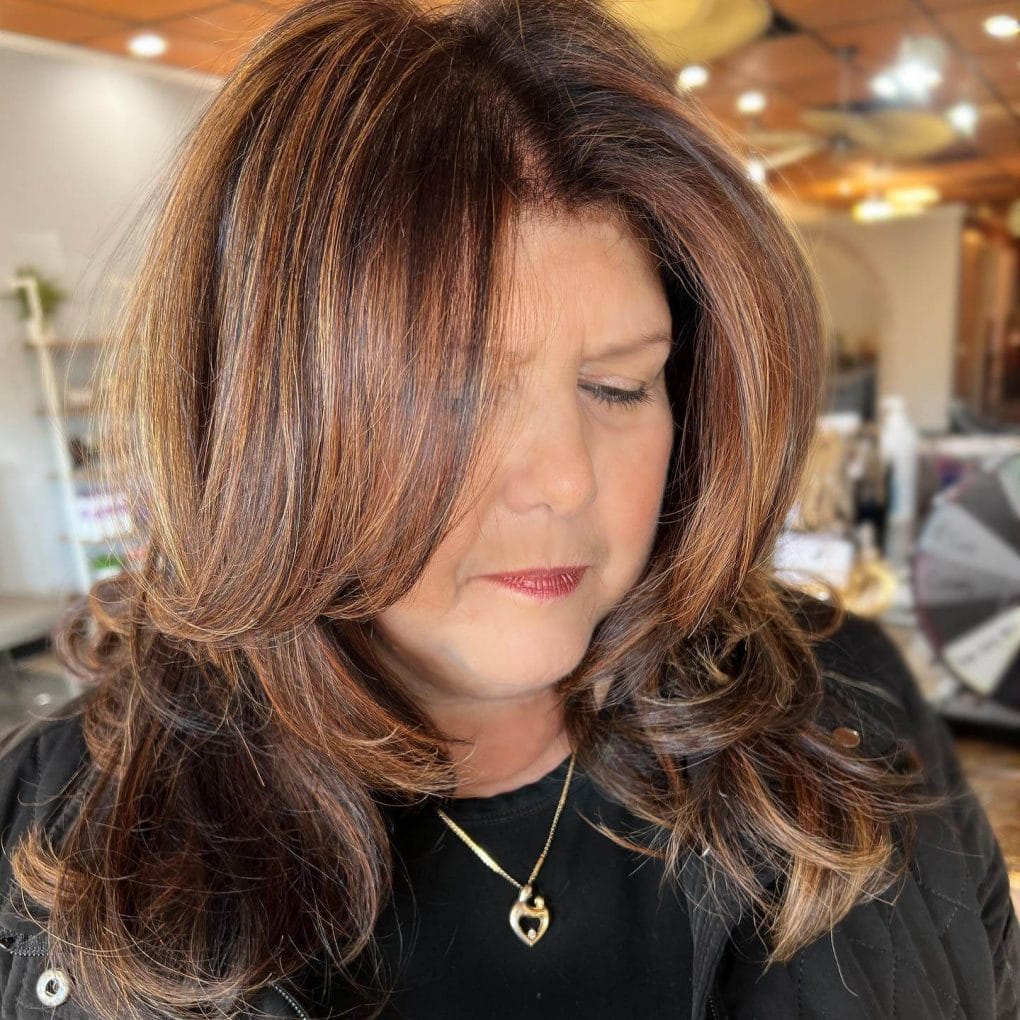 #1 Graceful Medium-Length Cascade with Auburn Highlights
The hairstyle features a layered, medium-length cut that cascades gracefully around the face. Warm auburn highlights blend seamlessly with a deep brown base, giving it depth and dimension. For those over 50 looking to add some vibrancy to their look, this style is both timeless and rejuvenating, perfect for exuding confidence and elegance.