Today, I'm excited to share some firsthand insights on the hottest trend in the hair industry: gray highlights. Trust me; gray hair is no longer just reserved for your grandma. It's a statement of sophistication and style that knows no age limit.
Embrace the Gray
Have you ever felt stuck in a hair color rut? Gray highlights might just be your ticket to a bold and elegant transformation. These versatile highlights can be seamlessly integrated into any hairstyle and flatter every skin tone. From soft blonde shades to shimmering silver tones, the possibilities are endless.
My Personal Touch
I've seen firsthand how gray highlights can elevate a look, and let me tell you, they're here to stay. I've had the privilege of working with clients of all ages and hair types, and gray highlights are a game-changer for everyone.
Balayage Brilliance: One of my go-to techniques is the balayage method. It's like an artist's brushstroke, painting gray highlights onto your hair for a natural and effortless effect. It's an absolute winner in the world of gray hair.
Pixie Power: For the brave souls with shorter hair, consider a pixie cut with gray highlights. It's edgy, bold, and sure to turn heads wherever you go.
Care Tips from Experience
Now, let's talk about keeping those gray highlights in top-notch condition. Trust me; I've walked the gray hair journey myself, and these tips have been my saviors:
Purple Shampoo: Gray hair can turn dull and yellow over time. Combat this with a purple shampoo once or twice a week to neutralize those unwanted tones.
Conditioner: Gray hair can be delicate, so invest in a conditioner specially formulated for gray hair. It will strengthen and nourish your locks.
Leave-In Conditioner: If you're looking for extra moisture and frizz control, a lightweight leave-in conditioner is your best friend.
Heat Protection: Heat styling tools can be harsh on your hair, so always use a heat protectant spray. And remember, less heat styling is kinder to your gray highlights.
Own Your Gray: Finally, remember that your gray highlights are a natural and beautiful part of who you are. Embrace them and show them off proudly.
Gray Highlights for Every Length
No matter the length of your hair, there's a perfect way to incorporate gray highlights. I've got tips for all you lovely ladies out there:
Short and Sassy
If you're rocking short hair, don't think you're left out. Subtle gray highlights around your face can brighten up your features, or go all out with gray highlights throughout for a bold statement.
Medium Magic
Medium-length hair is a canvas waiting to be painted with gray highlights. Try a subtle ombre effect with gray highlights at the ends or go bold with chunky highlights.
Luscious Long Locks
Long hair offers endless possibilities. Opt for beachy, sun-kissed ends with gray highlights or create an edgy modern look with highlights throughout your mane.
Fine and Fabulous
Fine hair? No problem! Gray highlights can add depth without making your hair look thinner. Keep it subtle with scattered highlights for a natural touch.
Shoulder-Length Chic
Shoulder-length hair is ideal for highlights. Consider highlights at the ends for a subtle and natural look or go bold with chunky highlights.
Textures That Shine
Different hair textures create unique effects with gray highlights. Here are some expert tips:
Wavy Wonder
Wavy hair looks fantastic with gray highlights. Balayage style highlights create a sun-kissed, natural appearance. Or, try chunky highlights for an edgier vibe.
Thick and Gorgeous
Thick hair can handle lots of gray highlights. Mix thick and thin sections for a natural look, or go subtle to create a more sophisticated appearance.
Fine and Fabulous
Even fine hair can shine with gray highlights. Keep it subtle for a natural look or opt for balayage highlights to mimic the sun's touch.
Complementing Your Complexion
Choosing the right gray highlights for your complexion is key. Let me share some wisdom:
Fair Skin: Lighter shades like soft silver or ash blonde will brighten your complexion without overwhelming it.
Medium Skin: You have more flexibility. Warm caramel or honey-toned highlights with a touch of silver can create a subtle look, while cool-toned silver or platinum blonde offers a bolder choice.
Dark Skin: Don't shy away from gray highlights! Opt for warmer, golden-toned highlights with a hint of silver for a radiant appearance.
Always consult with a professional stylist to find the perfect shade and placement that suits your skin tone and enhances your natural beauty.
Ageless Gray
Gray highlights aren't just for a specific age group. Let me break it down:
Younger Individuals: Gray highlights can add a unique and edgy vibe. Techniques like balayage, ombre, and chunky highlights allow for creativity and personal expression.
Older Individuals: Embrace your natural hair color with gray highlights to brighten your face and create a youthful appearance. Face-framing highlights, lowlights, and all-over highlights offer versatile options.
All Ages: Gray highlights are a universal choice. Customize them to your hair type and style. Remember to choose a shade that complements your skin tone, consider placement, and use color-safe products for vibrant and healthy hair.
Stylish Gray Highlights
Gray highlights can be tailored to your personal style. Whether you're aiming for versatility, femininity, romance, or a gentle touch, there's a gray highlight style for you.
Side Part Elegance: Classic and sophisticated, a side part with gray highlights adds a modern twist while retaining timeless charm.
Bob with a Twist: Short-haired ladies, consider a brown bob with gray highlights. It's stylish and chic, giving your natural gray a pop of color.
Braid Brilliance: For an intricate style, add gray highlights to your braids. It's a unique way to stand out and show off your personality.
Special Techniques
To achieve stunning gray highlights, stylists use various techniques for different effects:
Balayage Technique: Hand-painting gray highlights onto the hair creates a natural sun-kissed look. A blend of blonde and silver tones works wonders.
Foil Highlights: Wrapping hair in foil and applying lightener creates bold, chunky gray highlights.
Lowlights: Darken sections of hair to add depth and dimension for a natural and blended appearance.
Face-Framing Highlights: These strategically placed highlights brighten your face and create a youthful look.
Money Pieces: Bold, face-framing highlights mimic sun-kissed highlights for contrast and a dynamic look.
Herringbone Highlights: This foil technique with a herringbone pattern creates a natural and blended effect, perfect for gray hair.
So, there you have it, a journey through the world of gray highlights, filled with personal experiences and expert insights. Now, go out there and embrace the beauty of gray!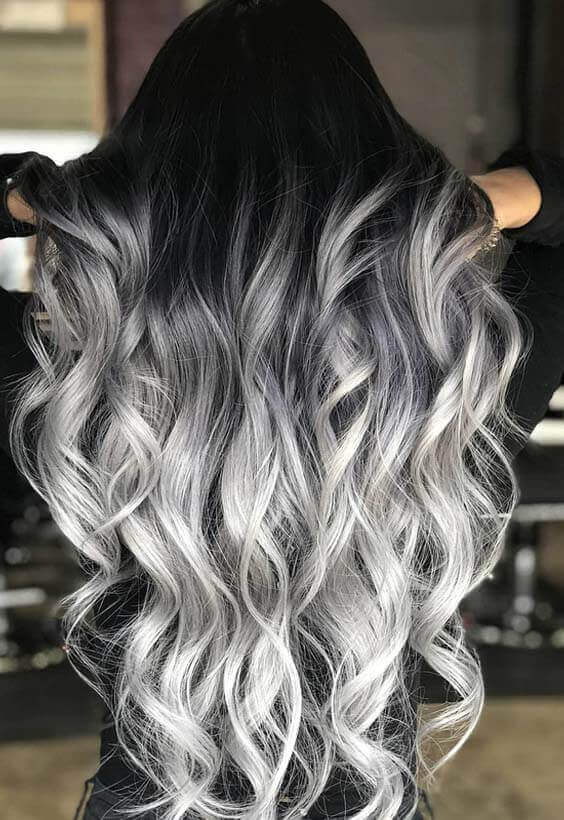 #1 Elegant Silver Cascades: A Modern Twist on Timeless Waves
This captivating style showcases a graceful transition from a deep, natural root to shimmering silver waves that cascade effortlessly down. The layered cut adds movement and dimension, making the gray highlights pop. If you're aiming for a modern yet timeless look, consider these mesmerizing gray highlights paired with loose, tousled curls.