Bardot bangs, those iconic, face-framing locks that have been turning heads since Brigitte Bardot rocked them back in the 1960s. As someone deeply entrenched in the hairstyling industry for over a decade, I can tell you that Bardot bangs are not just a blast from the past; they're a timeless hairstyle that's making a fabulous comeback.
Bardot Bangs for Everyone
Now, let's talk about who can rock Bardot bangs. The good news is that they're incredibly versatile and can complement various face shapes and hair types. Here are some insider tips:
Face Shape
Bardot bangs can flatter oval, heart, square, and diamond-shaped faces. However, if you have a round face, you might want to tread carefully as they can make your face appear wider. On the flip side, if you have a long face, Bardot bangs can work wonders by balancing your features.
Hair Type
For the best Bardot bangs experience, aim for medium to thick hair, as they require some volume to achieve that perfect look. If you have fine hair like me, fret not! You can still rock Bardot bangs with a bit of help from texturizing products. And if you're blessed with curly or wavy hair, Bardot bangs can enhance your natural texture beautifully.
Hair Texture
Straight hair? Go for that sleek and polished Bardot vibe. Wavy tresses? Embrace the tousled and beachy look. And if you've got those gorgeous curls, let them shine through your Bardot bangs with pride.
Styling Secrets
Here's where the magic happens – styling your Bardot bangs to perfection. After all, it's not just about the cut; it's about the finesse in styling:
Consult with your hairstylist for the ideal length and shape that complements your face and hair type.
To create volume and lift at the roots, grab a round brush and a trusty blow dryer.
Don't forget to add some texturizing spray or dry shampoo for that added texture and hold.
Experiment with a flat iron or curling wand to achieve different Bardot bangs styles.
Regular trims are your best friend to maintain that beautiful shape and prevent excessive length.
Fun Fact: Did you know that Brigitte Bardot's iconic look wasn't just about the bangs? She often sported a half-up, half-down hairstyle to complement her signature fringe.
The Perfect Style
Styling Bardot bangs is an art, and here's how to nail it:
Styling
You can either wear your Bardot bangs sleek and straight or amp up the volume with some gentle curls. Use a round brush while blow-drying to create a soft and natural movement. And if you're craving that extra oomph, add a touch of volumizing mousse or spray.
Length and Layers
The beauty of Bardot bangs lies in their asymmetry. They're shorter in the center and longer at the sides, creating that face-framing effect we adore. To achieve this look, ask your stylist to cut your bangs at an angle, with the shortest strands at the center and the longest ones brushing against your temples. Adding layers can give you that tousled and effortlessly chic Bardot look.
Pro Tip: Curtain bangs are a variation of Bardot bangs and are perfect for a low-maintenance style. Part your hair in the middle, use a round brush while blow-drying, and create a natural and wispy effect.
Adding Some Flair
What's a hairstyle without a little extra dazzle? You can elevate your Bardot bangs with hair jewelry like clips, pins, or headbands. They're not only fun but also add a touch of sparkle and glamour to your overall look.
Finding the Right Hair Color
Speaking from personal experience, the right hair color can make your Bardot bangs pop. Blonde highlights are a popular choice as they add dimension and texture to your hair. Whether you opt for subtle or bold highlights, they can work wonders. I personally love the subtle blonde highlights against my dark brown hair.
But here's the twist – Bardot bangs look stunning on darker hair colors too. The contrast between dark hair and lighter bangs creates an eye-catching effect. And let's not forget, Bardot herself made tousled blonde hair and fringe an iconic combination. If you're considering going blonde with your Bardot bangs, make sure to choose a shade that complements your skin tone.
Bardot Bangs for Every Occasion
Bardot bangs are the chameleons of hairstyles, ready to adapt to any occasion:
Professional: Keep them neat and tidy for a polished look. Blow-dry with a round brush and add a dab of hair serum to tame any frizz. Pin them back with bobby pins or a small clip for a no-fuss office look.
Casual: Embrace a relaxed vibe by letting your bangs air dry and using texturizing spray for that touch of volume. Create a messy bun or a loose braid to complement your Bardot bangs effortlessly.
Glamour: When you want to turn up the glam, style your Bardot bangs with loose waves or curls. Elevate your look with sparkly hairpins or a chic headband.
Bardot Bangs in Haircut Trends
As I keep an eye on haircut trends, I'm thrilled to see Bardot bangs making a powerful comeback. They offer volume, that signature center part, and a round finish that never goes out of style.
Curtain fringe, often known as see-through fringe, is another trend worth exploring. Similar to Bardot bangs, it's longer at the sides and shorter in the middle, creating a curtain-like effect. It's versatile and can be styled in various ways.
And let's not forget the charm of round layers in haircuts. They infuse volume and movement into your locks, giving you that effortlessly chic look. Whether you go for a classic bun, super straight hair, or pair curtain fringe with a blunt-cut bob, there's a Bardot-inspired style for every taste.
Pro Tip: Before making the cut or diving into a new haircut trend, consult with a professional hairstylist. They'll help you find the perfect style for your unique hair type and face shape. And don't be afraid to experiment with different styling techniques to truly make Bardot bangs your own.
So, there you have it – Bardot bangs, a timeless hairstyle that's not just a blast from the past but a modern, versatile, and glamorous choice for everyone. Whether you're a fan of classic Hollywood glamour or looking for a fresh style to elevate your look, Bardot bangs have you covered. Give them a try, and let your inner diva shine!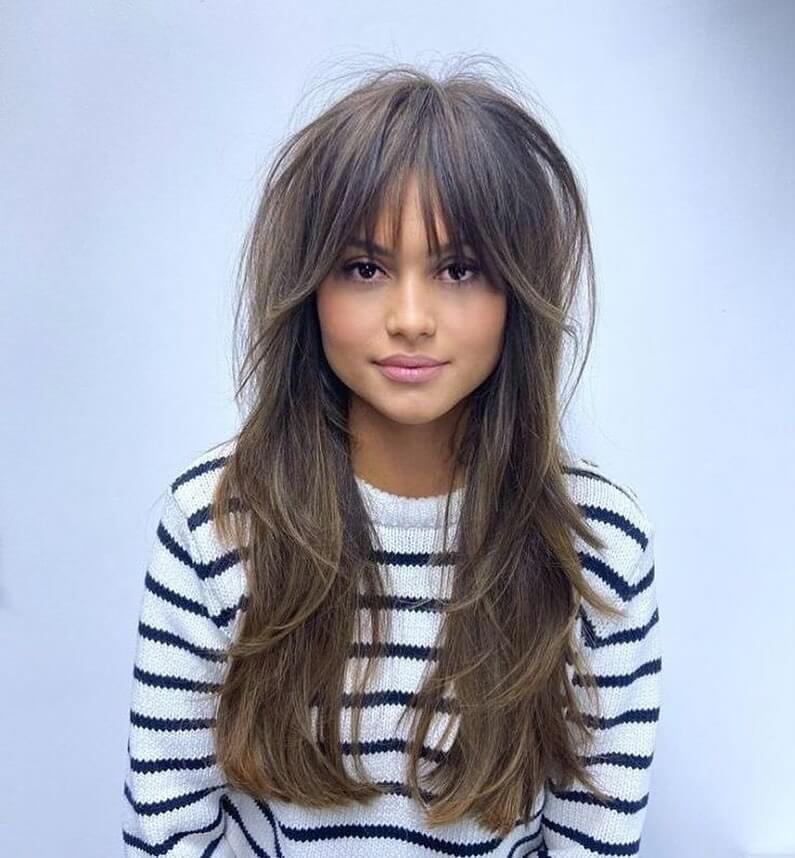 #1 Bardot Bangs on Layered Brunette Blowout Beauty
With a rich brunette hue, beautifully combined with both curtain and bardot bangs. The voluminous blowout enhances the depth of the cascading layers, creating a lively movement. If you're aiming for a timeless yet trendy look, consider this style for your next salon visit.