During my years behind the salon chair, I've realized how age shapes not just our experiences but also our locks. Yes, turning 50 might come with challenges for your tresses, but that's just another creative challenge I've loved facing.
Whether it's the ever-fashionable bobs or the elegant waves, there's always a perfect style for everyone. And let's not even get started on color – who says silver strands can't shine as bright as any hue?
Decoding Hair Textures
In the many heads of hair I've worked with, I've seen it all:
Fine hair: It's like delicate silk. I often add layers or suggest bobs and pixies to lend some oomph.
Thick hair: With its dense, voluminous personality, lightening layers can be magical. Think of a breezy shoulder-length cut.
Curly hair: Spirals that dance! But they can get frizzy. Layered cuts or even embracing natural bouncy curls can be enchanting.
Wavy hair: Ah, those gentle waves. They sometimes need a little definition, which layers or elongated waves provide perfectly.
Natural hair: Coils and kinks brimming with character. I recommend protective styles and occasionally going all out with afros or stretched curls.
Fun Fact: Did you know that the width of your hair strand can determine its category? For instance, fine hair is thinner than a piece of thread, while coarse hair is thicker!
Molding Hairstyles to Face Shapes
Over coffee breaks, my stylist friends and I often discuss the art of matching hairstyles with face shapes. Here's a bit of that wisdom:
Round faces: Aim for height and length. Long layers with side parts are magical. Wavy curls elongate the face delightfully.
Oval faces: This shape is quite versatile. However, a layered side part can be transformative. And bangs? They're like the cherry on top.
Heart-shaped faces: I usually balance the forehead and chin with chin-length bobs or wavy layers. It's all about harmony.
Square faces: Soften those angles with long layers and side parts. Waves and curls? They're your best friends.
Diamond faces: I add width with shaggy lobs. Again, soft waves can make a world of difference.
Pro Tip: If you're unsure about your face shape, a fun method is standing in front of a mirror, pulling your hair back, and tracing the outline of your face with a lipstick. Analyze the shape you draw!
A Stylist's Top Picks for Women Over 50
As we embrace the 50s, the hair game changes, but that doesn't mean the style has to fade.
Bobs: Oh, the versatility! From chic blunt bobs to textured variants, they're timeless.
Pixie Cuts: They shout boldness. From textured to piecey, there's a pixie for every personality.
Layered Styles: Layers breathe life into hair. From long casual layers to sophisticated feathered ones, the options are vast.
Medium-Length: Shoulder-length with wispy bangs screams youthful elegance. While collarbone-length cuts resonate classic charm.
Short Hairstyles: Perfect for those seeking style with minimal fuss. The short messy cut is especially trendy nowadays.
From the countless conversations and stories shared in my chair, I've learned one fundamental truth: age is just a number. It's the spirit and attitude that shine, and with the right hairstyle, every woman can glow brighter than ever.
Always remember, the best accessory is confidence. With that and the right hairstyle, you're unstoppable. Stay fabulous!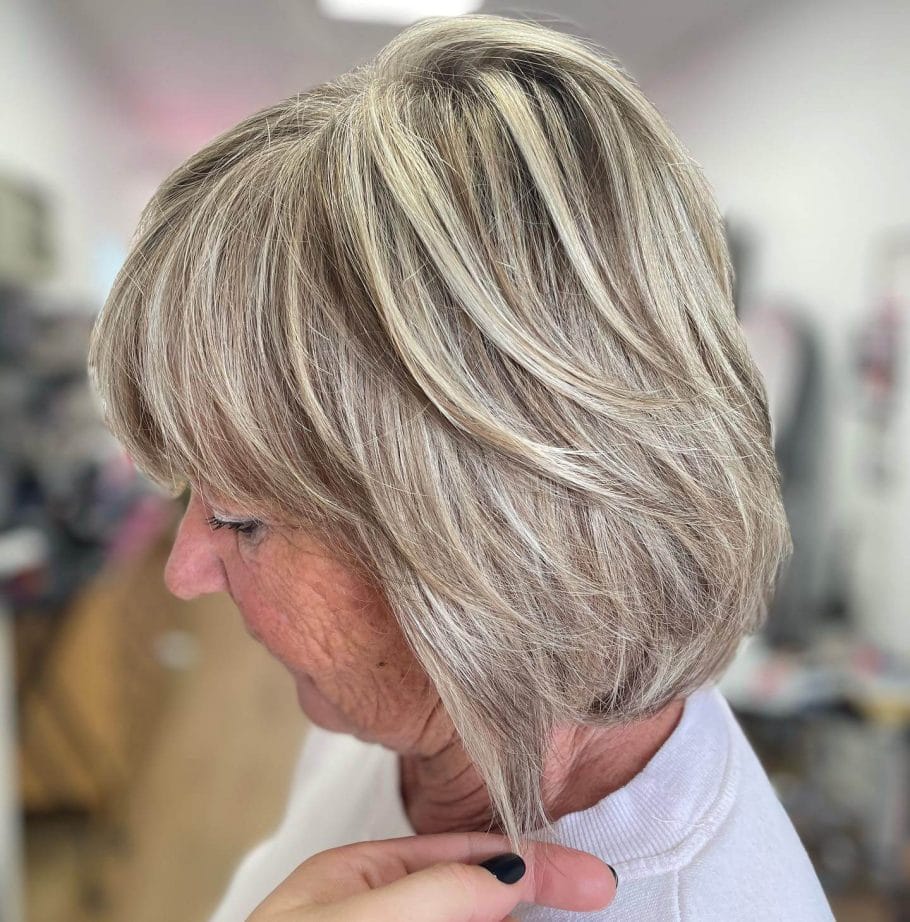 #1 Modern Bob with Voluminous Crown Layers and Elegant Side Sweep in Grey and Blonde
This hairstyle flaunts a modern take on the classic bob with its soft layering that creates movement and volume, especially around the crown and sides. It's styled with a graceful side sweep, adding a touch of elegance, while the blending of natural grey and cool blonde highlights gives it a chic, age-embracing look. The absence of heavy bangs makes it versatile and easy to maintain, perfect for those looking to combine sophistication with simplicity.