The moment the wolf cut started trending, I knew I was in for an adventure. It's not every day that you get to blend the rebellious spirit of a mullet with the retro charm of a shag. Let's dive into what makes this cut a favorite.
Why The Wolf Cut?
From the first snip, I fell in love with how the wolf cut just commands attention. It's a delightful blend of shaggy layers on top and wavy, playful strands in the back. It isn't just a haircut; it's a statement—a flirtation with one's wilder side.
What Makes The Wolf Cut Pop?
Texture and Volume: The hairstyle's lifeblood! Shorter around the crown to create that signature volume, it cascades into longer layers that flatter the face. A dash of texturizing product, a blow dry, and voilà—an effortlessly tousled look.
Layers: The soul of this haircut. Depending on your features, these can range from delicate wisps to bolder, choppier segments, often contouring the face to accentuate cheekbones and jawline.
Bangs: Ah, the cherry on top! Be it dramatic curtain bangs or subtle wisps, they can truly transform the wolf cut, adding a touch of personality.
Wolf Cut: A Style for Every Hair Type
Having crafted this look on various hair types, let me give you the inside scoop:
Straight Hair: It's about introducing movement. Some intentional layering and a spritz of texturizing spray, and you've got that chic, windswept style.
Curly Hair: The wolf cut and curls? A match made in heaven. Dry cutting helps in ensuring the natural pattern stands out. A dollop of curl-enhancing cream, and those curls will sing!
Thin or Fine Hair: It's a volume game. Strategic layering can introduce depth and movement, making your hair look fuller.
Thick or Textured Hair: Here, it's about harnessing that volume. A bit of layering and thinning can create a sleeker yet voluminous look.
Black Hair: On black hair, the wolf cut is sheer magic. The contrast, the layers—it's a bold statement.
Wavy Hair: Waves add a romantic flair to the wolf cut. Dry cutting ensures the waves find their rhythm.
Platinum Blonde or Brown Hair: Both these colors lend a contemporary flair to the cut. To maintain the vibrancy, a good color-protecting shampoo is your best ally.
Fun Fact: Did you know the wolf cut gets its name because it mirrors the rugged, wild mane of a wolf? It's nature meeting style!
Tailoring the Wolf Cut for Every Length
Short: It's about edgy volume. The layers infuse a spontaneous vibe, perfect for those who love a snazzy, low-fuss look.
Shoulder-Length: Here, drama meets sophistication. The layers bring volume, and you can experiment—a classic chop or even some avant-garde bangs.
Long: It introduces a daring edge. With the layers adding volume, you could keep it classic or introduce face-framing layers for a more elegant touch.
Lob and Mid-Length: Edgy yet refined. Whether you keep it classic with layers or add bangs, it's bound to turn heads.
Pro Tip: While styling the wolf cut, let your hair's natural texture shine. For those with wavy or curly hair, diffusing while blow-drying accentuates the style. If you have straight hair, a round brush will introduce the desired flair.
How I Style the Wolf Cut
The Wolf Cut is like a canvas waiting for an artist's touch. Here's how I love to style it:
Embracing Natural Texture: Tousled, messy vibes are this cut's best friend. When I'm feeling this look, I grab my trusty diffuser while blow-drying. A good volumizing mousse at the roots, and a little scrunching, and voila! Shaggy perfection.
Face Framing: Side-swept bangs with the Wolf Cut? A match made in hair heaven! They add that touch of drama and frame the face so beautifully. And on days my clients wanttheir hair out of the way, a chic ponytail or a half-up, half-down style becomes their go-to.
Beachy Waves: Fun fact: The Wolf Cut and the beach are secret lovers. A quick spritz of salt spray, and you've got yourself those desirable beach waves. For a sleeker approach, I sometimes grab my round brush, followed by a flat iron for some elegant loose waves.
Keeping Frizz at Bay: I can't stress this enough – a good hair serum or oil is like a magic potion. Just a small amount helps combat those pesky flyaways.
Coloring and Highlights: Adding the Oomph!
Choosing a color for your Wolf Cut is like selecting the right accessory for an outfit. It needs to resonate with your personality and enhance the haircut's essence. Here's a sneak peek into my color palette:
Blonde: The classic shaggy Wolf Cut in blonde has an effortless charm.
Red: Oh, the drama! Fiery red brings out the boldness of the cut.
Brunette: The warm shades with perhaps some highlights or lowlights? A favorite in my salon.
Pastels: Lavender, pink, or even a soft blue? Adds a touch of whimsy to the fierce Wolf Cut.
Let's Talk Highlights
Highlights can redefine the Wolf Cut's texture and shape. Over the years, I've grown fond of:
Balayage: Those sun-kissed streaks? Courtesy of the freehand magic of balayage.
Foil Highlights: For those who desire a more contrasting, dramatic flair.
Babylights: Ah, the finesse of adding fine, delicate streaks. Subtle, yet transformative.
Elevating Dimension
Dimension brings life to the Wolf Cut. Some techniques I swear by:
Ombre: The dramatic gradient from dark to light is always an eye-catcher.
Sombre: Think of it as Ombre's subtler cousin, giving a gentle color transition.
Color Melt: Seamlessly blending colors together? It's like painting a masterpiece.
Hint: The Wolf Cut is all about finding what resonates with you. Play around, experiment, and remember, it's not just about following the trend but making it uniquely yours.
In the world of hairstyling, trends come and go, but the wolf cut? It's a tale of rebellion and elegance—a cut that I've loved crafting and watching clients flaunt with panache. So, if you're itching for a change, why not let out your inner wolf?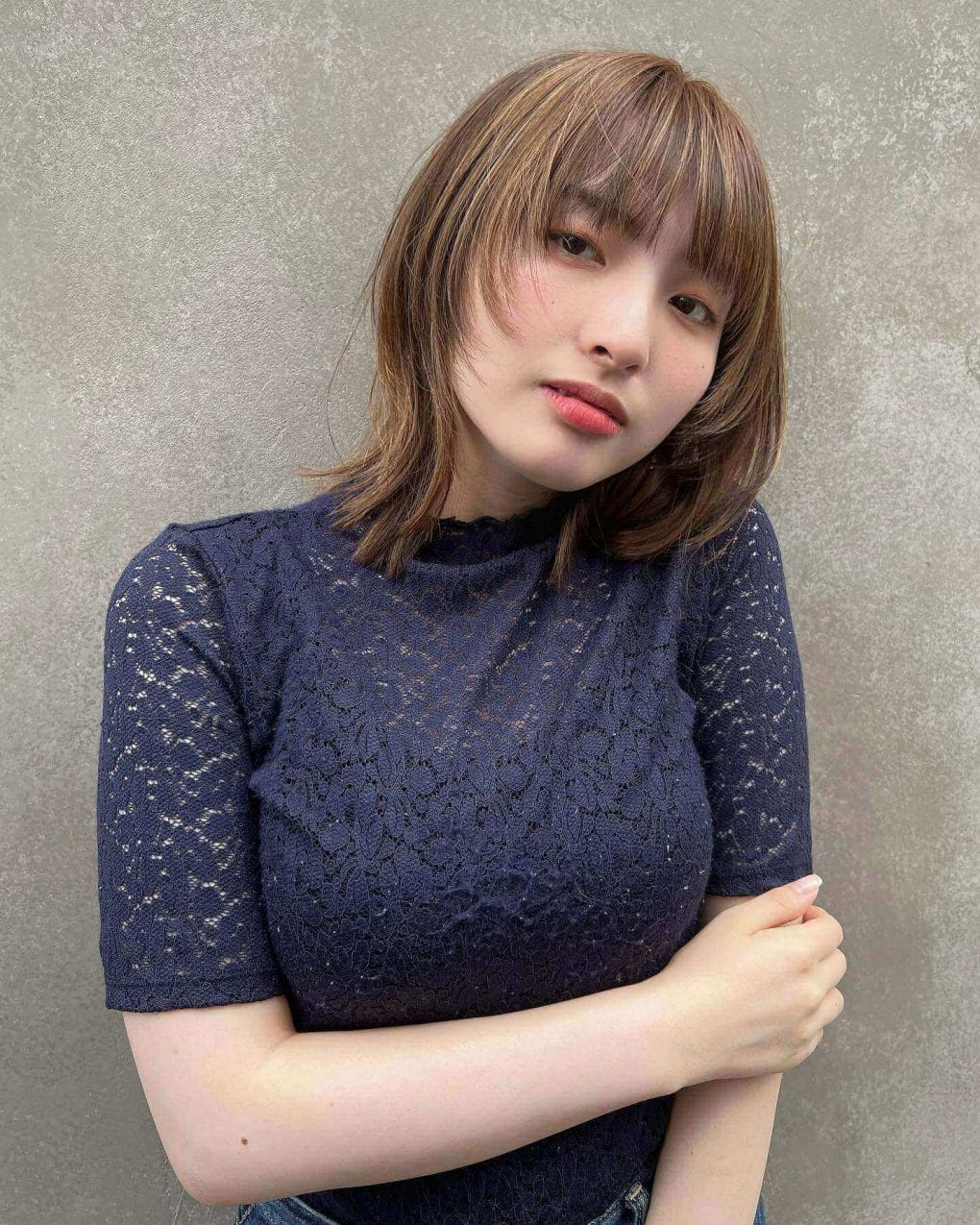 #1 Textured Ash-Brown Wolf Cut with Wispy Fringe and Choppy Layers
This trendy 'wolf cut' rocks a textured, voluminous look, sporting a seamless blend of choppy layers that give off a carefree yet stylish vibe. The hair flaunts a cool ash-brown hue with subtle highlights cascading into a wispy fringe that softly frames the face, perfect for anyone looking to add a bit of edge and movement to their style.