You know, in my years as a hairstylist, I've seen countless trends come and go, but the Octopus Haircut? Now, that's one that's certainly caught my eye! Picture this: a harmonious blend of a shag, mullet, and a touch of the Rachel haircut – yes, it's as daring as it sounds. It's edgy yet undeniably chic.
At the heart of this style are the long curtain bangs that cascade just below the ears, mingling with textured layers reminiscent of, you guessed it, the flowing tentacles of an octopus. Wavy or curly-haired folks, you're in luck! This cut enhances those natural bends, gifting volume that's a sight to behold.
Pro tip: this cut absolutely dazzles with blonde hues - achieving a romantic aura that's hard to resist.
A Stylist's Guide to Getting the Octopus Haircut
Choosing Your MaestroFrom a stylist's chair, I can't stress this enough – the magic is in the hands that wield the scissors. When diving into this style, opt for someone familiar with the Octopus terrain. Recommendations? Always golden. The internet? A treasure trove of reviews. Your perfect stylist awaits.
1. Striking the Right Chord with Length and Texture
While the Octopus flaunts those iconic curtain bangs, the rest of your crown revels in an array of layers. Straight-haired beauties might want to tease out some waves for that added drama. As for those with a wavy mane, sometimes, just letting nature play its course brings out the best version of this cut.
2. The Prep Before the Snip
Clean hair is a stylist's canvas. Wash, condition, and perhaps even treat your tresses to a spa day before the big cut. As for the final look.
Pro tip: A picture speaks a thousand words. Bring along some reference snaps to ensure both you and your stylist share the same vision.
Crafting the Perfect Octopus Look
Having styled countless Octopus haircuts, I'll let you in on a secret: while it's chic, it does ask for a dash of effort. But fret not, here's a tried-and-tested styling recipe:
1. Volume and Movement, The Dynamic Duo
With a round brush and blow dryer in your arsenal, partition your hair and work section by section. Start from the roots, stretch it towards the end, and let the heat do its magic. A spritz of finishing spray? The cherry on top.
2. Styling Nuances Across Hair Types
Fine hair: Boost it with a volumizing duo of shampoo and conditioner.
Thick locks: Keep it light with your conditioner.
Curly wonders: Sometimes, just letting them air dry brings out the Octopus' charm.
3. A Cut Above the Rest: Maintenance
Between sessions, treat your tresses to deep conditioning. A dash of dry shampoo? It's like a mini spa day for your hair, ensuring your Octopus remains the belle of the ball.
Personalizing Your Octopus: The Variations
As this trend has swayed through the salons, its iterations have danced across many a crown. Some that I've crafted and truly love:
1. The Octopus Shag
Desiring texture? This brings short layers to the party, ending in a wispy, rebellious look.
2. Octopus Rocks the Mullet
For the bold-hearted, a voluminous top blending into longer back layers. It screams punk and is a true head-turner.
3. Octopus Plays Peek-a-Boo with Bangs
Curtain bangs accompanied by an array of short layers. It's a gentle, feminine spin on the Octopus that has heads turning for all the right reasons.
In all my years, the Octopus stands as a testament to the ever-evolving world of hair. Be it the shaggy rebel or the punk rockstar, the Octopus wears many hats, and I absolutely adore crafting each one. So, the next time you think of a change, why not dive deep and embrace the Octopus?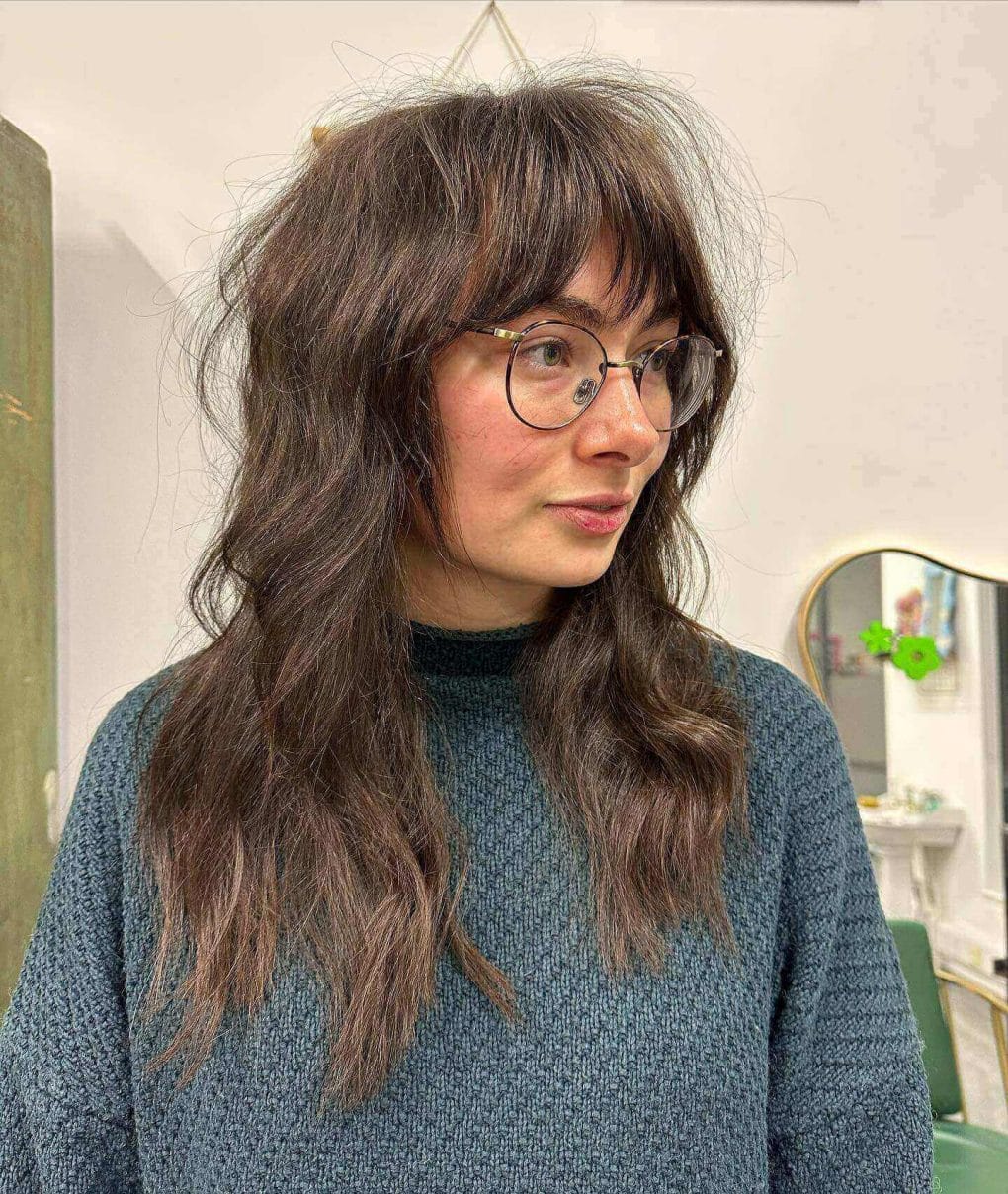 #1 Chestnut Brown Octopus Cut with Wavy Layers and Feathered Ends
This octopus haircut showcases a beautifully textured look with long, wavy layers cascading down and slightly feathered at the ends, creating an illusion of tentacle-like movement. The deep, chestnut brown hair is complemented by a full, soft fringe that frames the face, perfect for someone looking for a style that combines volume with a touch of whimsy.