As a hairstylist with years of experience under my belt, I've had the pleasure of weaving countless strands into the majestic Viking braid. This hairstyle, rich in history and bursting with character, is more than just a fashion statement—it's a celebration of strength and individuality.
Viking braids are characterized by their intricate patterns and unique style. They are usually created by weaving hair in a pattern that resembles a braid. The braids can be simple or complex, depending on the desired look. Viking braids are often worn by women who want to make a statement with their hair and show off their individuality.
Fun Fact: Did you know Viking warriors braided their hair before battle as a practical solution to keep hair out of their faces and away from their weapons?
Exploring the World of Viking Braids
Personal Insights and Styling Techniques
As a stylist, I've experimented with numerous Viking braid styles, each with its own charm and complexity. Here are some of my favorites:
French Braid: A classic, starting from the crown and moving towards the nape, perfect for an intricate look.
Fishtail Braid: Casual yet elegant, ideal for a relaxed vibe.
Rope Braid: Simple, yet stunning, great for an understated style.
Snake Braid: Dramatic and attention-grabbing, mimicking the curves of a serpent.
Ponytail Braid: A casual twist to the traditional ponytail.
Halo Braid: A romantic style circling the crown of the head.
3-Strand Braid: Timeless and traditional, easy yet beautiful.
Lace Braids: Small sections woven into a larger braid for a detailed look.
Bubble Braid: Playful and whimsical, creating a bubbly effect.
Feed-In Braids: For a more dramatic and voluminous appearance.
Woven Braids: Intricate and detailed, perfect for those who love complexity.
Detailed Braids: Ornate and elegant, each braid a work of art.
Pro Tip: To add volume to Viking braids, especially for shorter hair, I often use texturizing spray or backcombing techniques. This gives the braids a fuller, more dramatic look.
Styling and Maintenance: Ensuring Your Viking Braids Look Their Best
Texture and Volume: Even if your hair is short, you can still rock Viking braids. I often use texturizing spray to add body and volume, making the braids more pronounced and bold.
Maintenance: Keeping Viking braids in top condition is essential. Regular washing with gentle products and moisturizing with hair oils or leave-in conditioners helps maintain their beauty.
Accessorizing Your Viking Braids
Viking braids offer a canvas for creativity. Here are some accessories I love to use:
Hair Rings and Cuffs: Metal accents to add a hint of shine and texture.
Hairpins and Clips: Perfect for securing braids with a touch of Viking-inspired designs.
Embellishments: Beads, feathers, and leather accents can add a unique flair to your braids.
In the world of hairstyling, Viking braids hold a special place. They are not just a hairstyle but a tribute to a rich historical era. Each braid I create is a nod to the past, a blend of tradition and modern style. Whether it's for a special event or just a change of pace, Viking braids are a fantastic choice for anyone looking to make a statement with their hair.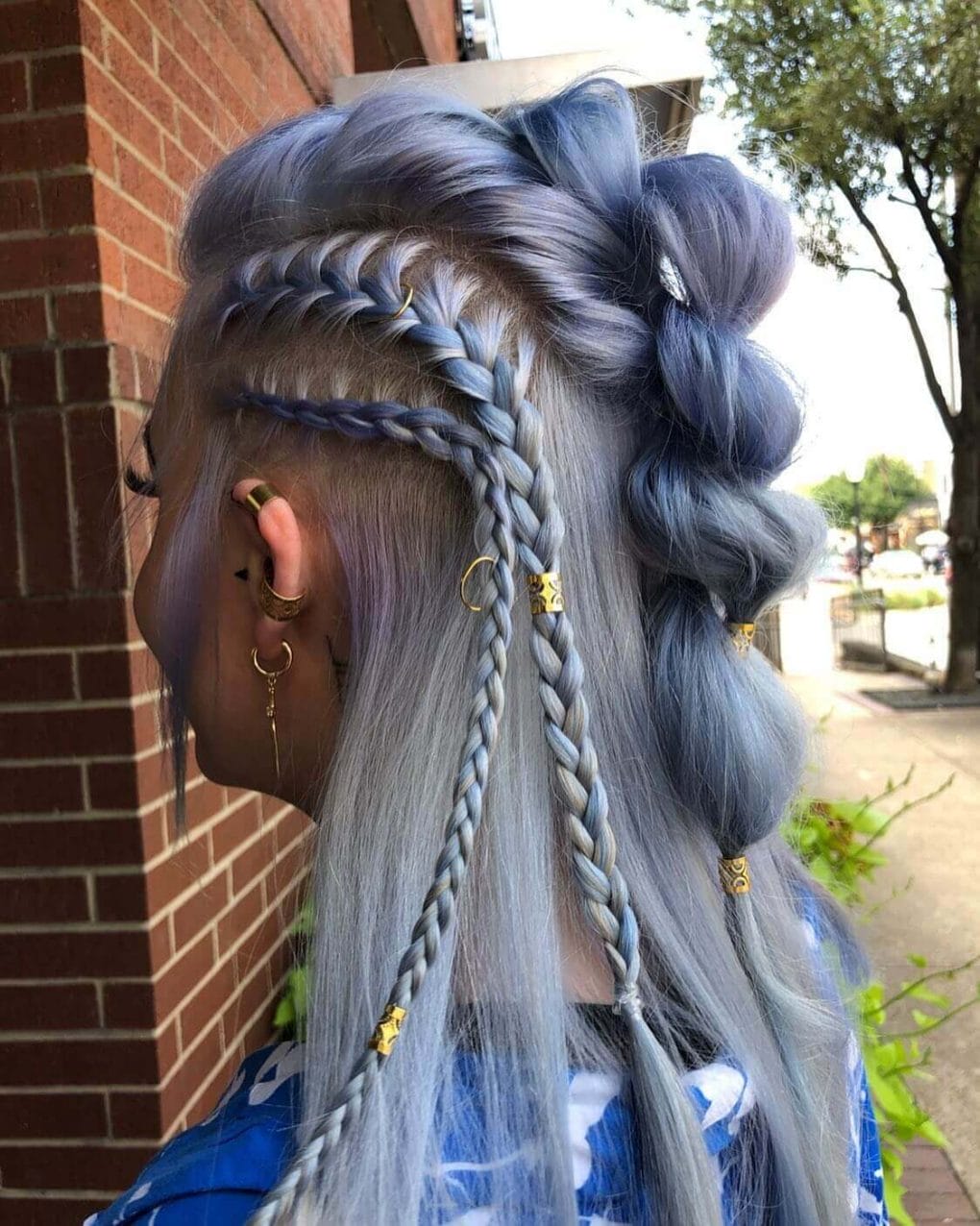 #1 Ash-Blue Modern Viking Braid with Golden Accessories in a Voluminous Half-Up Style
This modern take on a Viking braid features an ash-blue hue and a mix of tight and loose braids adorned with golden accessories, cascading down the sides. The hair is styled into a voluminous half-up, half-down look with the top teased into a loose, messy bun, blending historical flair with contemporary chic. This hairstyle is perfect for a statement look that's both stylish and practical.