Over the years, while refining my craft, I've seen many hairstyles come, go, and then resurge. The U-shaped haircut? Definitely having its moment again, and for good reasons!
Fun Fact: Did you know many turn to the U-shaped cut as their secret weapon for that illusion of fuller hair? The layers, they work like magic! They add depth while keeping a harmonious length throughout, save for a slight, enticing variance at the sides.
Picture this: you stand behind someone, and their hair cascades down in a gentle U, shorter at the back, progressing longer as it reaches the front. That, my dear readers, is the classic U-shaped cut. Over the years, I've found it works wonders on thick hair, shedding weight and giving a beautiful lift at the front. And for those with finer locks, it's like an instant volume booster.
Why the U-Shaped Cut Stands Out
The thing I adore most about the U-shaped cut? It's a canvas waiting for a personal touch. Whether you have long tresses or a shorter mane, this cut can be tailored to highlight your best features. And the styling options? Endless. From cascading waves that show off the layers to a sleek straight look, there's a U-shape style that screams "you."
Pro Tip: If you're considering this cut, have a heart-to-heart with a trusted hairstylist. They'll guide you on how it'll complement your face shape and provide you with styling gold.
The Many Faces of U-Shaped Haircuts
As I always say, the beauty of hair is its versatility. The U-shaped haircut is no exception. Here are some of my all-time favorite variations:
Long Layers: Add oomph to long hair, creating a full-bodied, rounded silhouette.
Face-Framing Layers: An enchanting choice for medium to long hair, offering a delicate, feminine aura.
Curtain Bangs: For that touch of modern chic, especially alluring on longer hair.
Chunky Layers: Thick hair, meet drama! This combo is attention-grabbing.
Butterfly Haircut: Think U-shaped but with an added twist, for that extra volume boost.
Oval U-Shaped Layer: A softer version, oozing femininity. Ideal for medium to long hair.
Things to Ponder Before Going U-Shaped
Before you dive into this hairstyle:
Assess your hair's length. The U-shape shines on medium to long lengths.
Reflect on your hair's texture and volume. This cut adds body to fine hair and reduces bulk in thicker manes.
Communication is key. Discuss with your hairstylist about how pronounced you want the 'U' and if you prefer layers.
A healthy canvas is essential. Trim away those split ends for the best result.
Keeping Your U-Cut On Point
A U-shaped cut is a personal testament to the style's enduring charm. And it does have its quirks in upkeep:
Regular Trims are Key: Trust me on this. A U-shaped cut thrives on regular trims. Aim for a refresh every 6-8 weeks. It not only keeps the style sharp but keeps those pesky split ends at bay.
Use Heat Protectant: A U-shaped cut, with its layers, is a tad more susceptible to heat damage. And if you're anything like me and love experimenting with styles, always, always shield your locks with a heat protectant.
Blend, Blend, Blend: There's an art to making those layers seamlessly flow. I often employ thinning shears or indulge in some point cutting. It softens the layers, ensuring your U-cut doesn't scream for attention but rather subtly mesmerizes.
Tackle the Bulk: Those with luscious thick hair, I get you. With a U-cut, you might want to lighten the load at the back. Texturizing or using a razor works wonders.
Styling Secrets I Swear By
Styling a U-shaped cut is fun and versatile, and with some tricks up your sleeve, you can flaunt a new look every day.
Celebrate Your Natural Texture: I'm all for natural vibes. The U-cut naturally complements your hair's texture. A dab of mousse on damp hair, a little scrunch, and voila! Let it air dry or use a diffuser if you're in a rush.
The Magic of Wide-Tooth Combs: I can't stress this enough. Especially post-wash, use a wide-tooth comb. It respects your hair, ensuring no breakage while detangling.
Round Brush for the Win: For days you crave that sleek, smooth finesse, blowout with a round brush. Tip: For added volume, blow dry with your head flipped. Gravity does wonders!
Curly Tales with a Wand: Fancy some curls? A curling wand is your best friend. The barrel size is your choice – small for tight curls, large for loose waves. A few seconds per hair section and you're set.
Balayage Highlights: If you've never tried balayage with a U-cut, you're missing out. The painted highlights complement the U-shape, adding depth and an artistic flair.
Fun Fact: The U-shaped cut, while trending now, has its roots deeply embedded in historical hairstyles. Ancient sculptures and paintings often feature this timeless look!
In essence, the U-shaped haircut isn't just a style; it's an experience. As an ever-evolving hairstylist, I believe in adapting and customizing, ensuring each U-cut is as unique as the individual flaunting it. If you're on the fence about it, take the plunge. And if you already have it, experiment away! The canvas is all yours.
#1 Auburn U-Shaped Sleek Cascade
This U-shaped haircut boasts a rich and seamless auburn hue that cascades down in a sleek, straight manner. The subtle layers create movement and dimension. For those seeking a classic yet versatile style, this cut is perfect; it can be easily dressed up with waves or curls or kept straight for a polished, everyday look.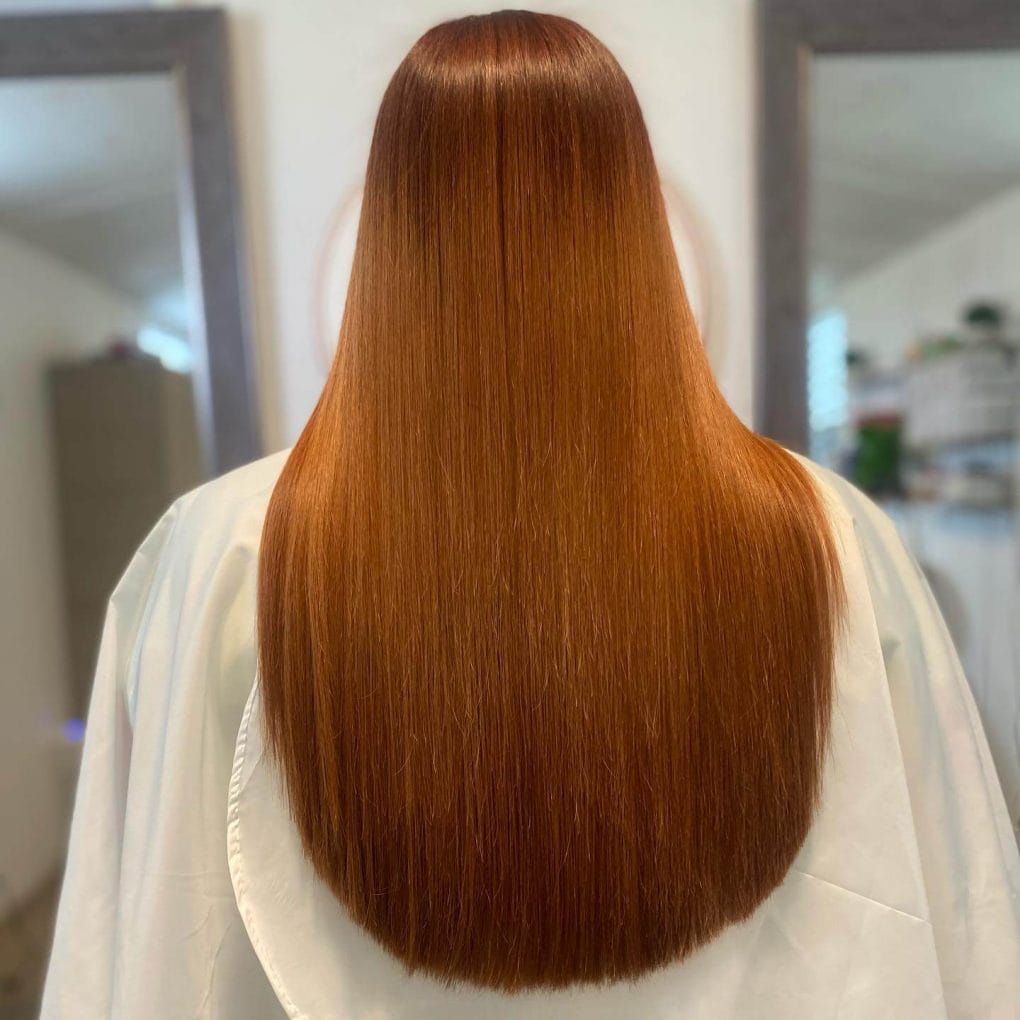 #2 Glossy Ash-Brown U-Cut with Vitamin C Radiance
Glossy U-shaped cut, deep ash-brown that gleams with health, thanks to the nourishment from hyaluronic acid and vitamin C treatments. Its straight strands are subtly layered, emphasizing the soft U contour. If you're looking to add some radiance and shape to your tresses, this style, especially when intensified with laser treatments, offers a sophisticated yet effortless charm.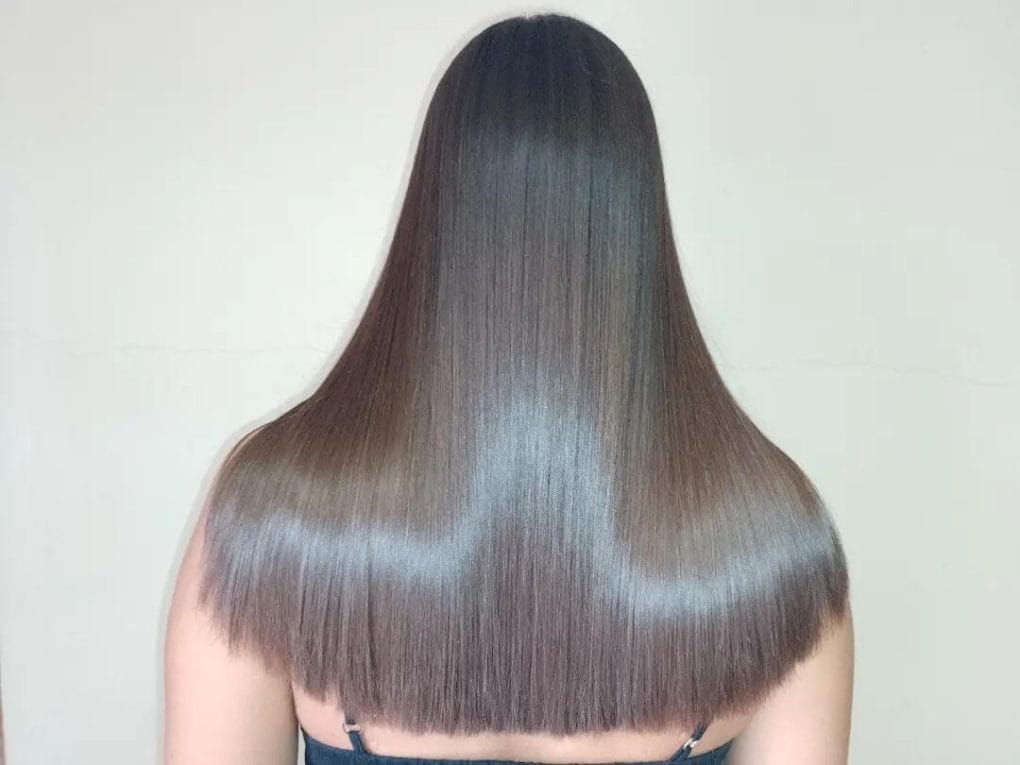 #3 Sun-Kissed Balayage in Flowing U-Shaped Brunette
Flowing seamlessly U-shaped cut with a combination of deep brunettes and intermediate balayage highlights, meticulously leaving the roots untouched for a natural gradation. The hair cascades down in a gentle U contour, displaying a mix of hues that catch the light beautifully. For those seeking a touch of sun-kissed elegance while maintaining a grounded, natural base, this effortlessly chic style might be your next muse.
#4 Deep Lustrous Uniformity in U-Shaped Excellence
Deep lustrous U-shaped haircut boasts a matching tone that exudes uniformity and depth, making the hair's natural beauty shine through. Graceful long layers are seamlessly integrated, enhancing movement and volume while showcasing the meticulous craftsmanship of the style. For those drawn to refined elegance and looking to accentuate their hair's natural shine, this U-shaped silhouette with layered finesse could be a dreamy pick for your next transformation.
#5 Radiant Auburn U-Cut with Sleek Silky Cascade
Basking in a radiant auburn hue, this U-shaped haircut showcases a sleek, silky finish that cascades gracefully down the back. With its subtle, uniform length, the hair emanates a timeless allure, presenting a neat, refined edge. If you're inclined towards a chic, minimalist style that highlights natural shine and simplicity, this particular U-shaped design might be the perfect canvas for your next hair adventure.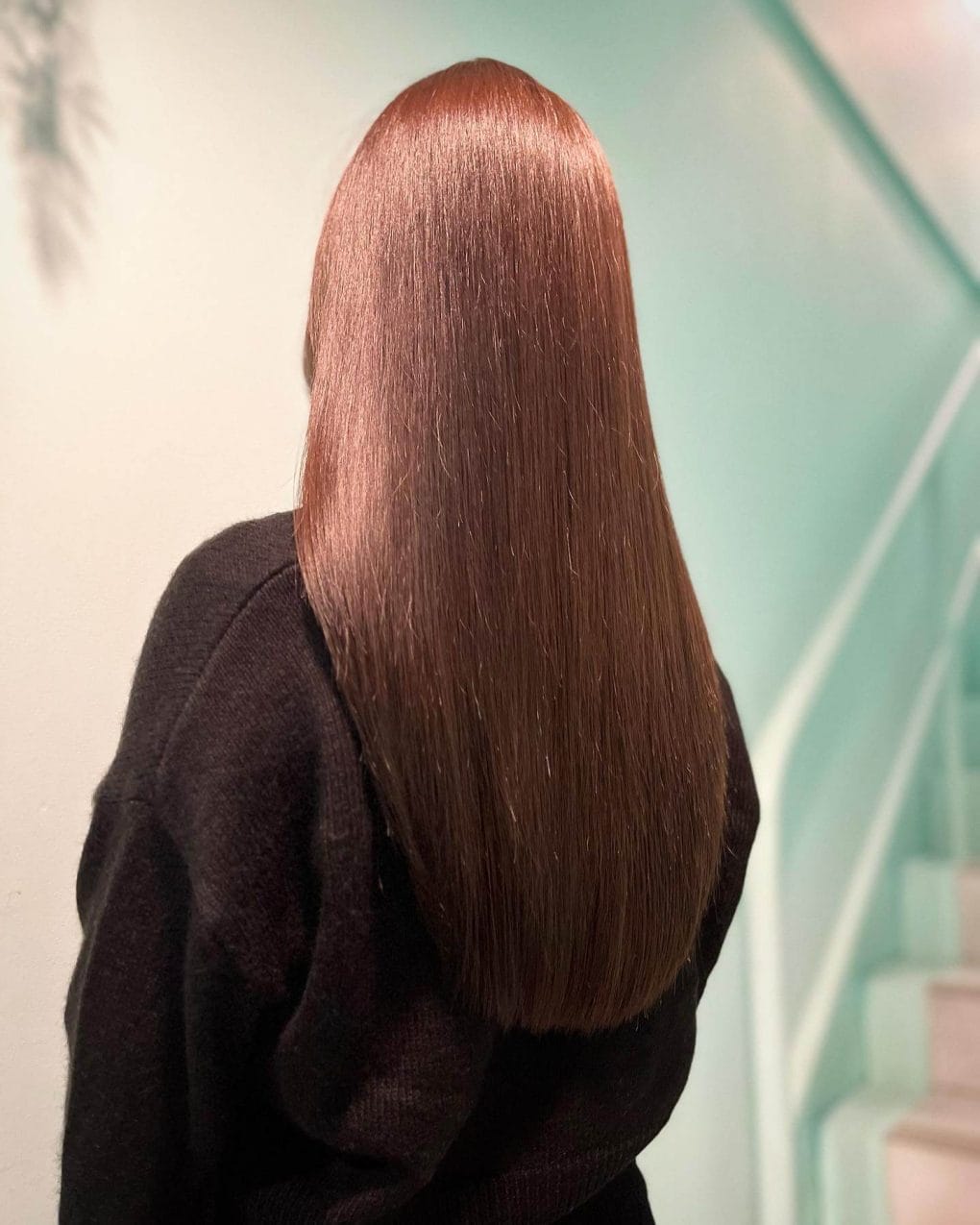 #6 Lustrous Mahogany Gleam in U-Shaped Elegance
This captivating U-shaped haircut boasts a lustrous mahogany hue that gleams under the light, reflecting a multitude of warm undertones. It's styled with impeccable smoothness, offering a seamless flow from the crown to the soft, rounded tips. For those desiring a harmonious blend of elegance and simplicity, this U-shaped style could be your next go-to, exuding both sophistication and ease.
#7 Chestnut to Copper Transition in U-Shaped Waves
This U-shaped haircut showcases a dynamic play of hues, transitioning from a deep chestnut at the roots to vibrant coppery highlights cascading towards the ends. Gentle layers are introduced, giving the hair volume and movement, especially noticeable in the beautifully crafted, tousled waves. If you're in the mood for a cut that adds both depth and dimension, this style effortlessly infuses casual charm and grace, making it a top contender for your next salon visit.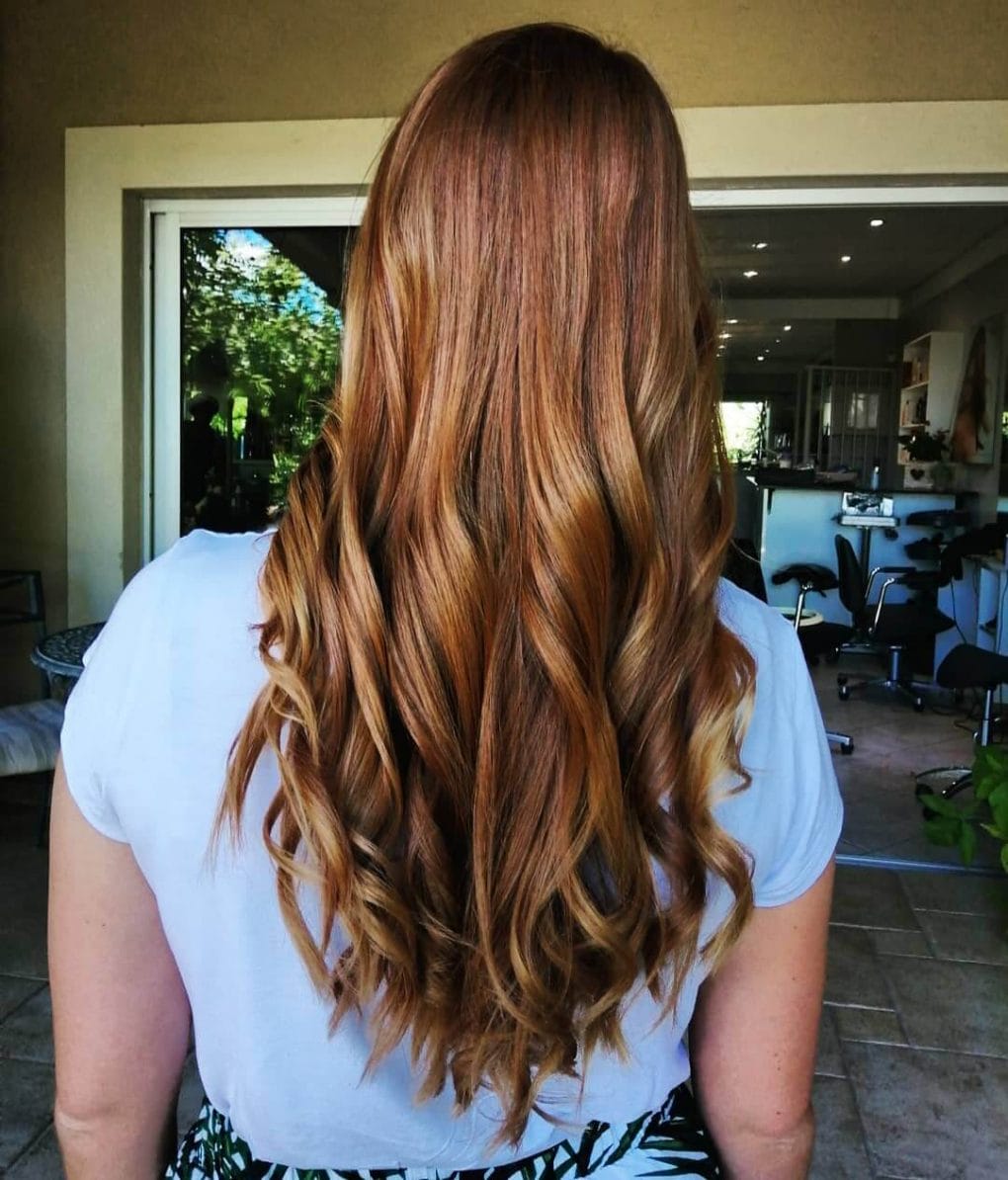 #8 Brunette and Pink Balayage Fusion in U-Shaped Artistry
This U-shaped haircut beautifully marries natural brunette tones with an audacious pink balayage, giving it a striking yet harmonious contrast. The vibrant pink hues are expertly blended into the lighter sections, leading to a burst of color that dances through the soft, wavy layers. For those wanting to make a statement while maintaining a touch of subtlety, this combination of classic cut and bold coloration offers the perfect balance, ensuring you turn heads and remain on-trend.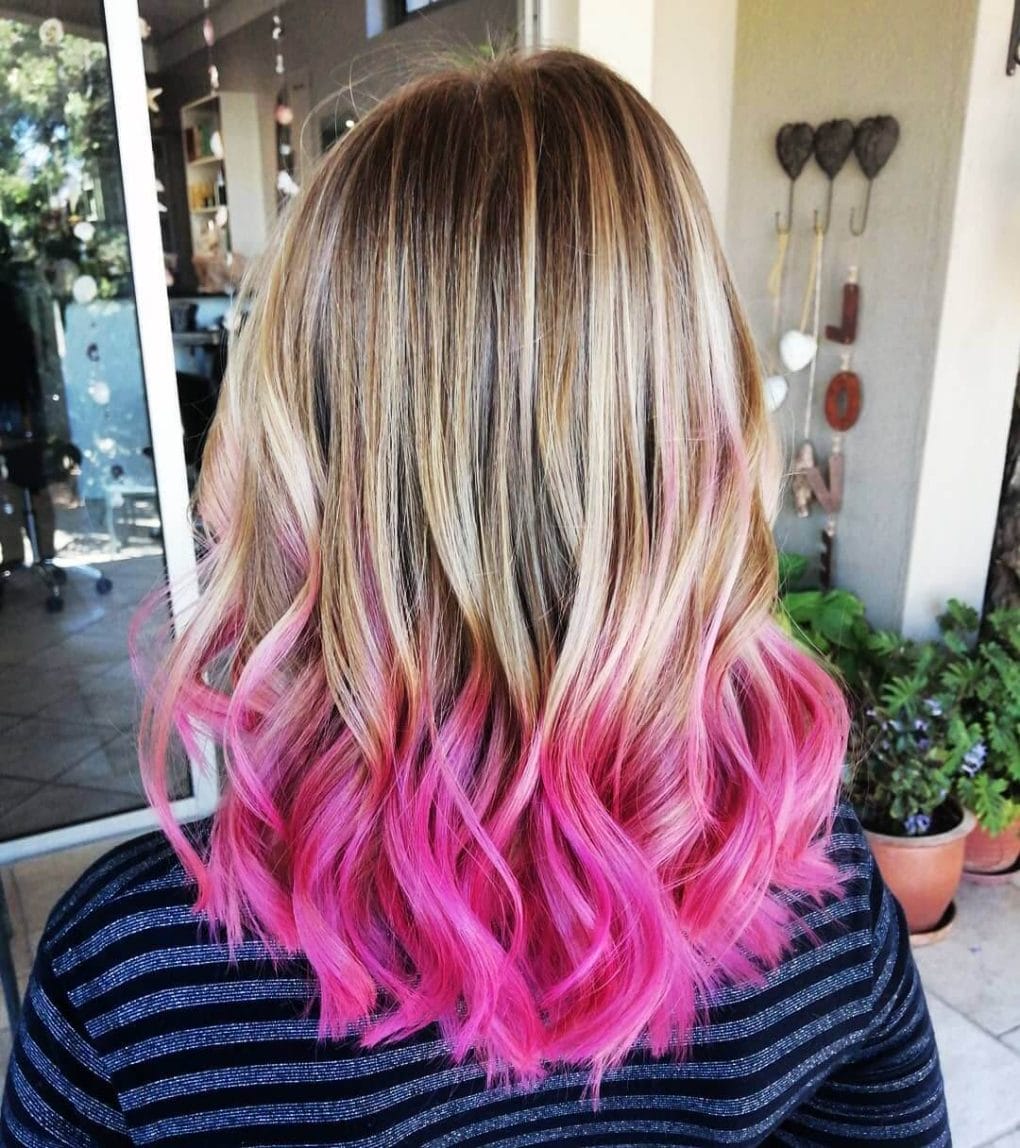 #9 Graceful Three-Layered U-Cut in Lustrous Chestnut
This U-shaped haircut showcases a graceful three-layered cut, enhancing the natural volume and flow of the hair. The rich chestnut hue gleams with added luster from the hair treatment, exuding a healthy shine. If you're looking for a style that effortlessly frames the face while adding a flirty twist, consider curling just the ends, lending a soft and elegant finish to your look.
#10 Espresso Elegance in U-Shaped Thick Cascade
This U-shaped haircut elegantly cascades down, seamlessly blending into a soft curve that accentuates the natural thickness of the hair. With its deep espresso hue, the hair gleams, revealing subtle, natural undertones when hit by light. If you're contemplating a style that's both classic and versatile, this subtle U-shape can be a chic choice, effortlessly enhancing the hair's natural bounce and movement.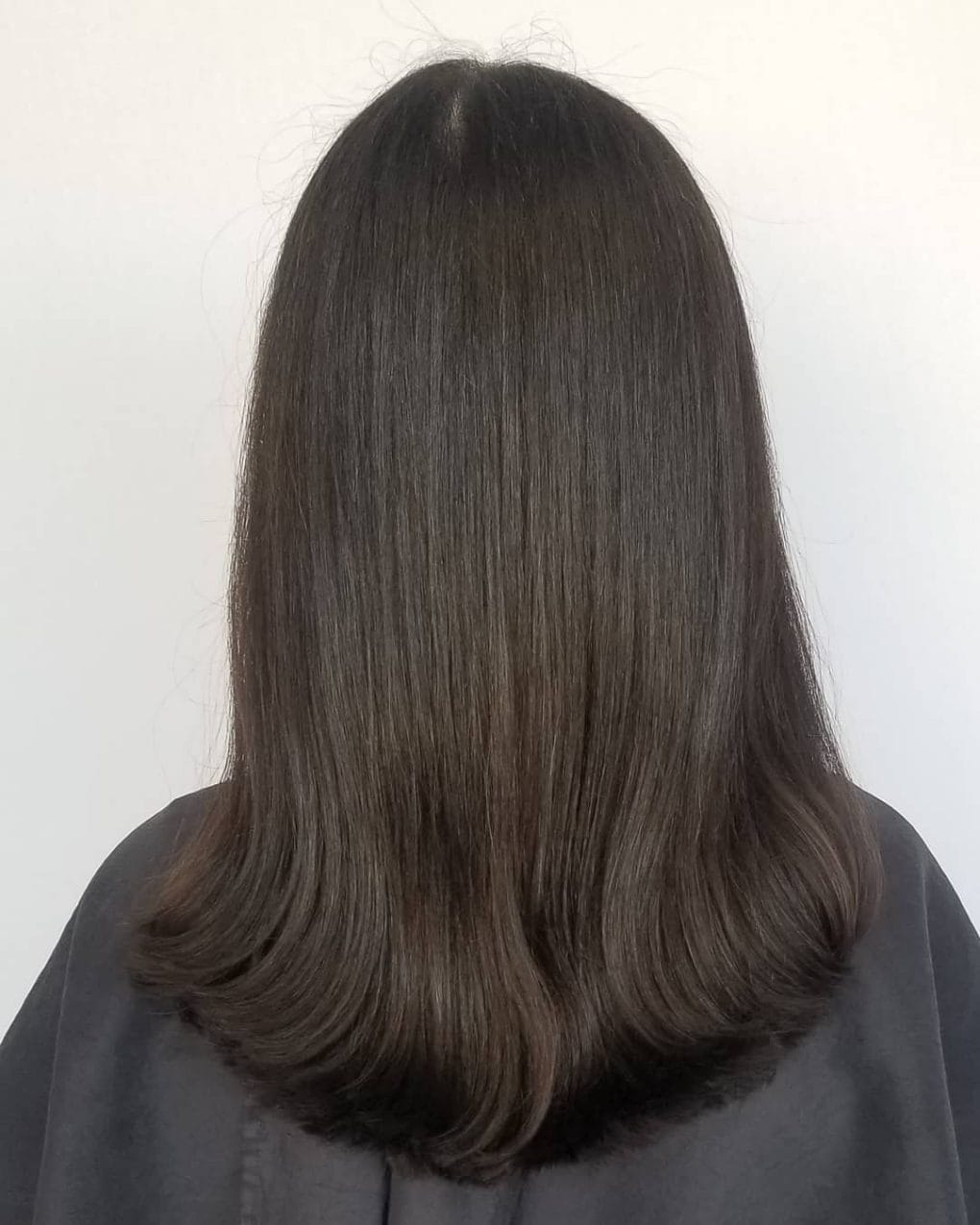 #11 Sleek Raven-Black U-Cut with Defined Ends
This is a sleek U-shaped haircut, characterized by its polished straight texture and sharp, defined ends. The raven-black hue adds depth and shine, capturing light and enhancing the hair's natural sheen. If a contemporary yet timeless look is on your radar, this precise U-shape offers a striking silhouette that frames the back beautifully, making it a top pick for those aiming for sophistication.
#12 Subtle Layered U-Shape with Sun-Kissed Radiance
This U-shaped haircut elegantly showcases subtle layers that add movement and dimension to the long, flowing locks. A mesmerizing blend of deep browns and soft highlights plays through the strands, giving the style a sun-kissed radiance. For those seeking a graceful, elongated look with a hint of volume, this hairstyle, with its gentle curve and cascading length, is a perfect choice to bring out your best features.
#13 Golden-Brown Elegance in Sleek U-Shaped Cascade
This U-shaped haircut boasts a smooth and polished finish, with the lengths cascading effortlessly down the back. The rich, golden-brown hue, enhanced with subtle highlights, reflects light beautifully, adding depth and shine. If you're leaning towards a classic and refined look that accentuates natural beauty and provides easy manageability, this evenly-layered and sleek style is a timeless choice worth considering.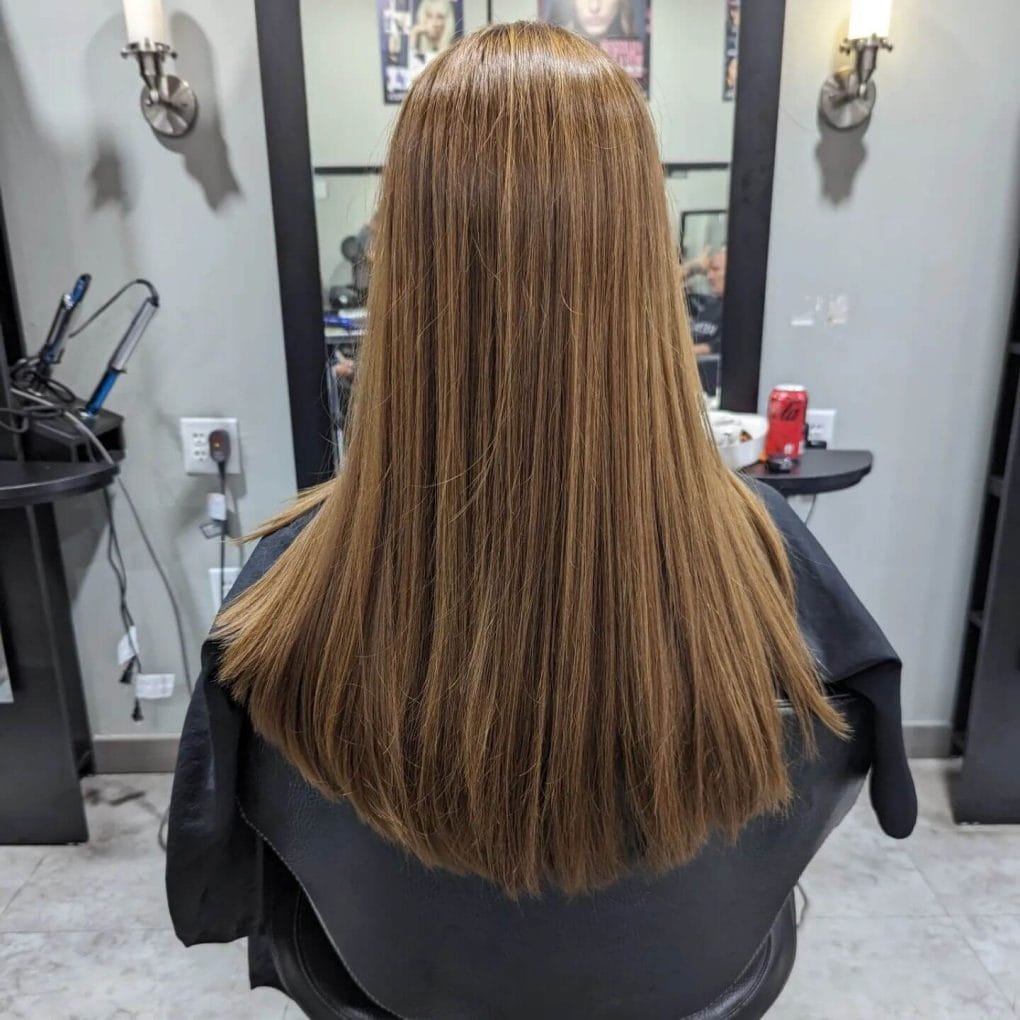 #14 Brunette to Caramel Balayage in U-Shaped Flow
This U-shaped haircut exhibits a harmonious blend of deep brunette roots transitioning gracefully into a caramel balayage, creating a sun-kissed illusion. The meticulously crafted layers provide a delicate flow to the hair, allowing the rich tones to dance and mingle in natural waves. If you're on the hunt for a style that seamlessly marries sophistication with a touch of modern flair, this caramel-kissed U-shaped masterpiece might just be your next hair muse.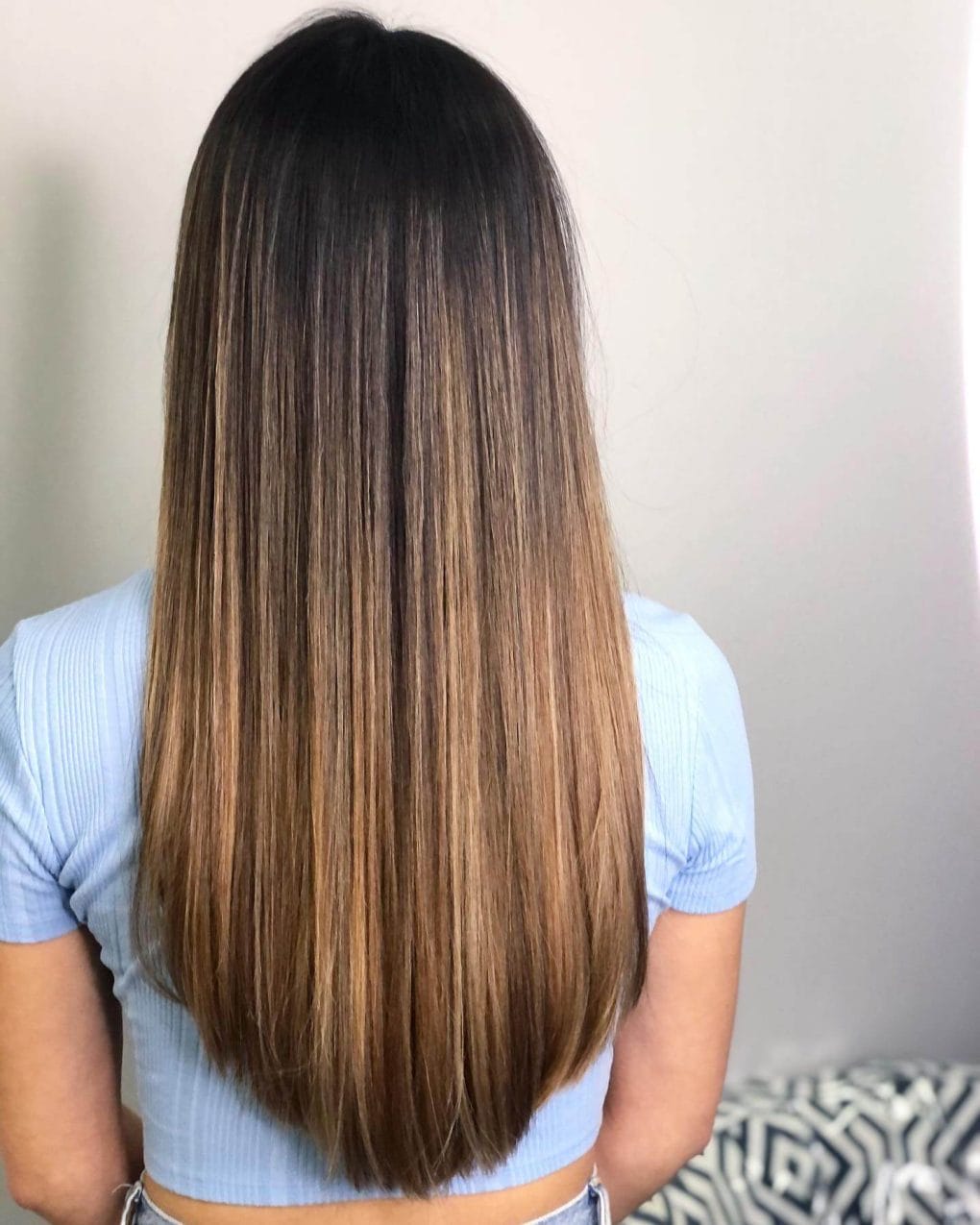 #15 Luxurious Espresso Strands in Sleek U-Shape Cascade
This U-shaped haircut boasts a luxurious, sleek finish with its dark, espresso-hued strands cascading smoothly down the back. Expertly cut, the style maintains an even length throughout, with a gentle curve at the ends, subtly framing the shoulders. If you're desiring a look that's both timeless and effortlessly chic, consider this pristine U-shaped cut for a sophisticated transformation.
#16 Shimmering Raven-Black in Sleek U-Shape Flow
This U-shaped haircut presents a deep, raven-black hue that shimmers in its sleekness, beautifully accentuating the natural texture of the hair. The cut flows seamlessly from a straight center to a gentle U-curve at the base, giving a harmonious, elongated appearance. For those seeking an understated elegance in their next look, this minimalist yet impactful U-shaped style promises to be a head-turner.
#17 Silky Ash-Brown to Chestnut Gradient in U-Shape Flow
This U-shaped haircut showcases a silky transition from a cool ash-brown at the roots to a subtle, warm chestnut hue towards the tips. The gentle layers are subtly woven in, creating a slight gradient and providing movement and depth. If you're considering a style that's both classic and versatile, this U-shaped silhouette with its soft gradient effect might just be your next signature look.
#18 Rich Chestnut to Honey-Blonde Ombre U-shaped Haircut
This U-shaped haircut flaunts a smooth blend of a rich chestnut base melting into a striking honey-blonde on the ends, offering a modern ombre effect. The precision-cut ends align beautifully, emphasizing the U-shape, while the straight texture reflects light, enhancing the hair's multidimensional color. If you're leaning towards a polished look with a dash of drama, this U-shaped design with a vibrant color gradient is a fashionable choice to consider.
#19 Graceful Cascade of Deep Brown to Warm Chestnut U-shaped Haircut
This U-shaped haircut showcases a graceful cascade of deep brown tresses that subtly transition into a warm chestnut hue towards the tips. The sleek strands, with their gentle curve at the ends, exude a sense of natural volume and movement. For those yearning for a refined yet effortlessly chic style, this U-shaped silhouette combined with a soft ombre touch makes for a captivating choice.
#20 Midnight Black Gleaming U-shaped Haircut with Subtle Blue Undertones
This U-shaped haircut boasts a luxurious midnight black hue that gleams under the light, reflecting shades of deep blue and charcoal. The silky, straight strands flow seamlessly down, creating a soft curve at the base that adds depth and dimension. For a look that's both elegant and timeless, consider this polished U-shaped style; its luminescent sheen and defined shape are sure to turn heads.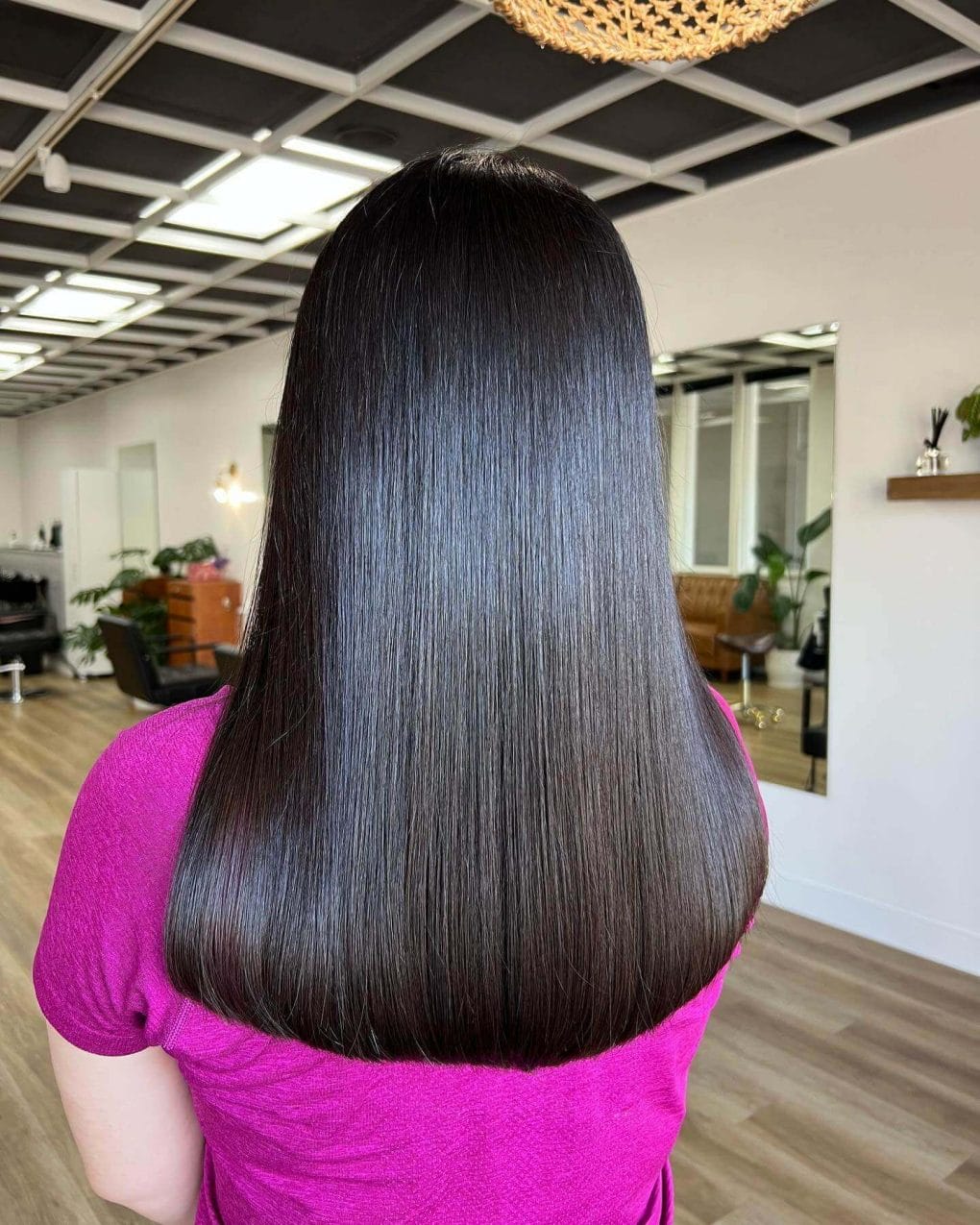 #21 Amber Radiance in a Cascading U-Shaped Haircut
This radiant U-shaped haircut is characterized by its striking amber hue, blending seamlessly from a rich copper at the roots to golden honey highlights at the tips. The sleek, straight strands cascade gracefully down the back, culminating in a soft U-shaped curve that adds movement and volume. For those seeking a sun-kissed, natural glow with a touch of elegance, this harmonious blend of warm tones in a classic U-shape is the perfect inspiration for your next salon visit.
#22 Seamless Deep Brunette to Chestnut U-shaped Elegance
This U-shaped haircut showcases a harmonious blend of deep brunette roots gradually fading into a warm chestnut hue. The strands flow seamlessly in a straight manner, subtly layered at the bottom to accentuate the gentle U-curve, adding a touch of dimension and movement. If you're leaning towards a sophisticated and timeless style, this blended brunette U-shape offers both depth and a soft silhouette, ideal for elevating your everyday look.
#23 Elegantly cascading U-shaped haircut with 3D layers and balayage touches
This U-shaped haircut elegantly cascades with 3D layers, providing depth and movement to the luscious locks. The rich brunette base is complemented by hand-painted balayage highlights, gently illuminating the strands and accentuating the layers. For a hairstyle that radiates volume and a multi-dimensional feel, this combination of 3D layers and subtle balayage is a captivating choice for your next salon visit.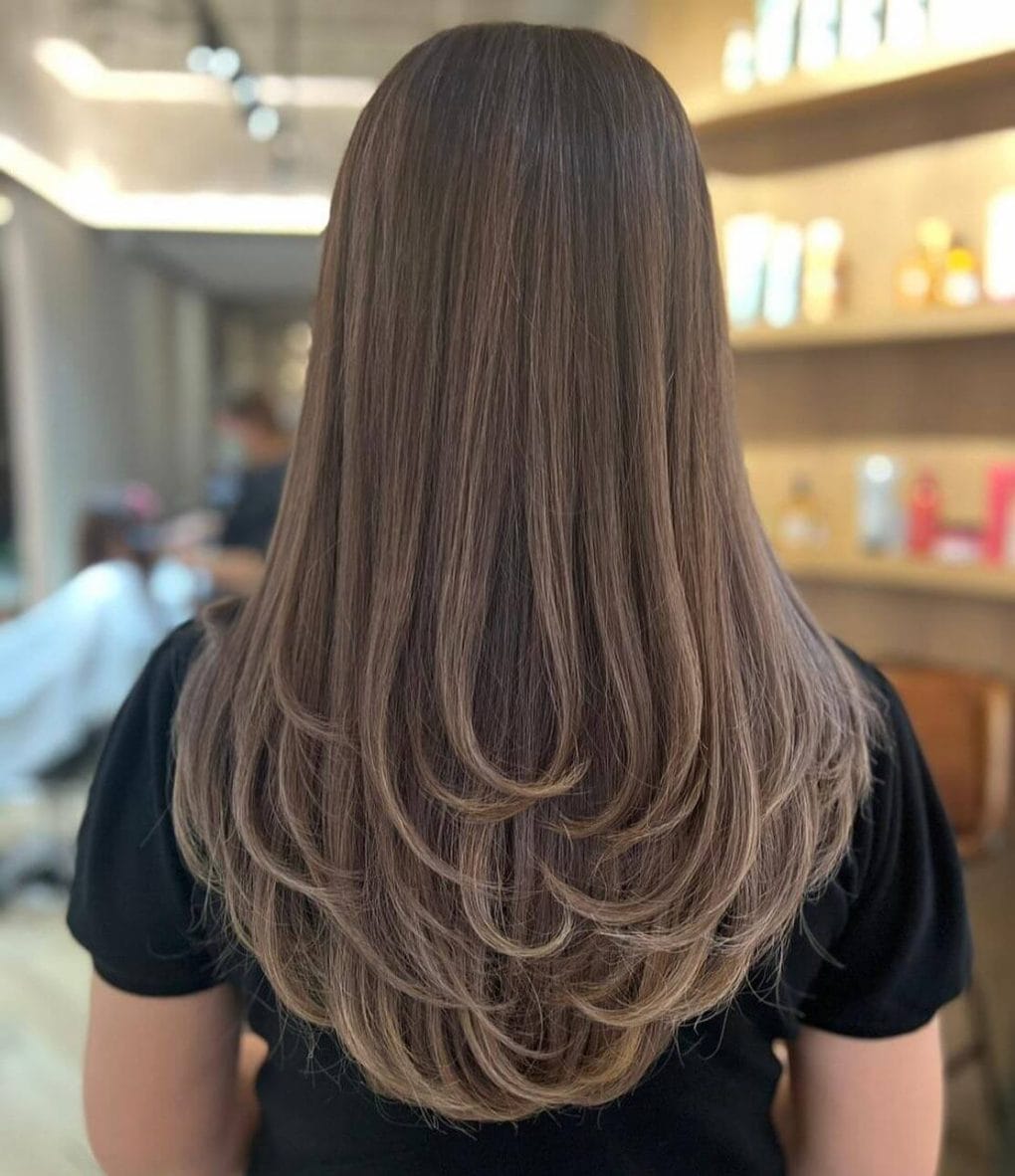 #24 Mocha U-shaped Cut with Caramel Highlights and Playful Layers
This U-shaped haircut gracefully skims the shoulders with a blend of subtle layers, adding volume and a touch of playfulness. A rich mocha base melds seamlessly with sun-kissed caramel highlights, creating a warm and inviting dimension. If you're after a look that's both effortlessly chic and easy to maintain, this U-shaped cut with its feathered ends and soft gradient is a perfect choice for a fresh transformation.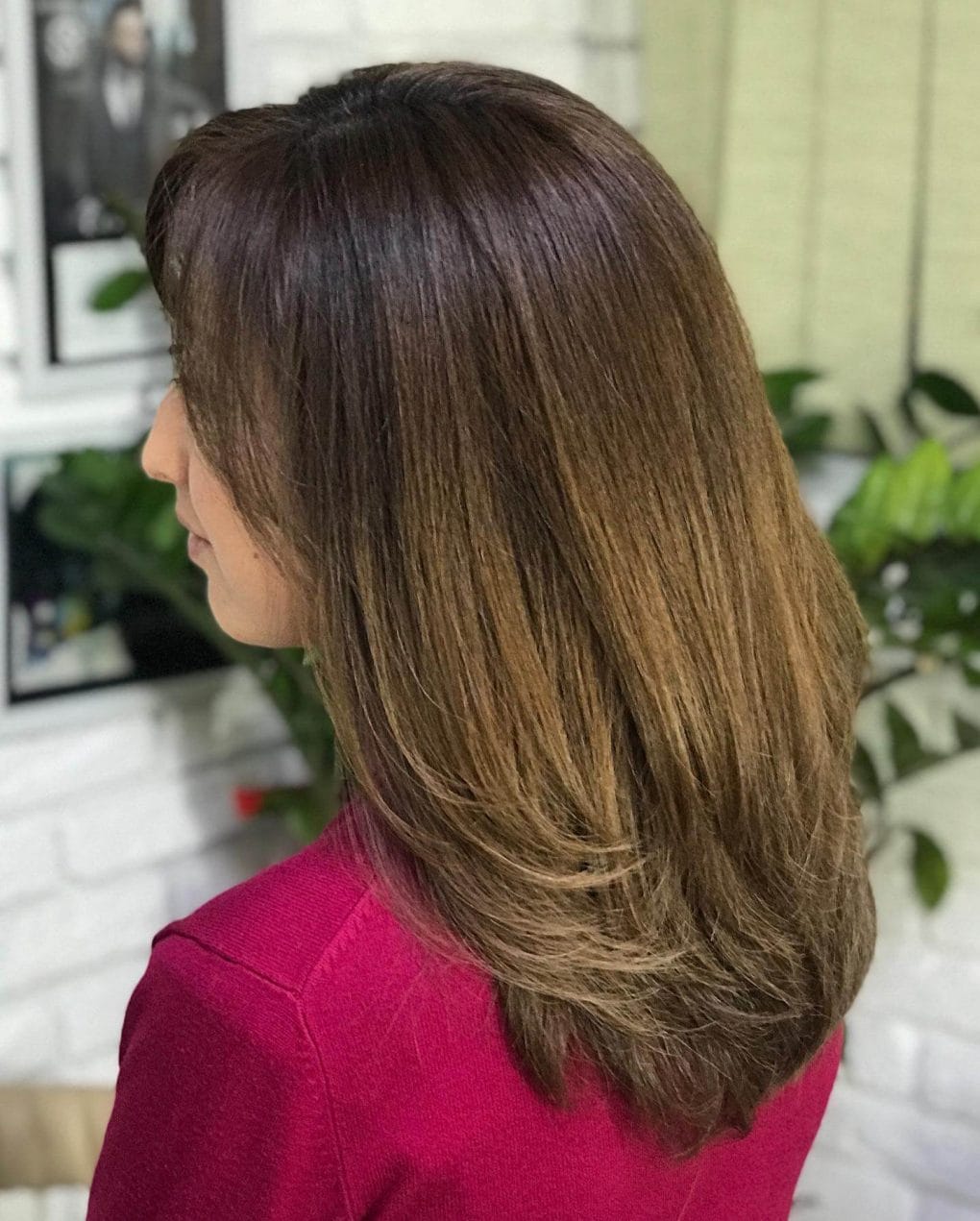 #25 Timeless Elegance in a Silky Chocolate Brown U-shaped Cut
This U-shaped haircut boasts a cascade of rich chocolate brown locks, shimmering with a refined, silky luster. The gentle layers dance down the back, perfectly curled inward at the tips for a soft, harmonious finish. If you're seeking a timeless elegance with a modern twist, this sleek and luxuriously long U-shaped cut offers the perfect blend of sophistication and style for your next hair journey.
#26 Onyx to Fiery Copper Gradient in a Sleek U-shaped Cut
This striking U-shaped haircut features a captivating gradient, transitioning seamlessly from a deep onyx at the roots to a fiery copper hue at the tips. The sleek, straight strands cascade perfectly down the back, displaying impeccable precision without any noticeable layers. For those looking to make a bold statement with a hint of allure, this radiant ombre combined with a refined U-shaped contour is an absolute must-try for your upcoming hair adventure.