Every snip, every shave, every touch tells a story. When I first laid my hands on the undercut pixie, it wasn't just another cut; it was a canvas of boldness and creativity. Over the years, the popularity of this edgy style has soared, and let me tell you, it's not just a haircut—it's an attitude. From the sleek finesse of its finish to the rebellious vibe it exudes, the undercut pixie is a statement piece for any hair enthusiast.
Styles That Speak Volumes
I've crafted countless undercut pixies, each tailored to individual personalities. Here's a glimpse into the variants I've loved creating:
Asymmetrical Undercut Pixie: The balance of the bold and the subtle. One side features longer locks that can be slicked or curled, while the other side is a testament to edge, shorter or even shaved. Perfect for those craving that standout look.
Layered Pixie with Undercut: Layers are a game-changer. They add depth, movement, and that sought-after texture. With an undercut to crown its edginess, this cut is for the stylish yet low-maintenance folks.
Pixie Bob with Undercut: Elegance meets edge. The longer hair, styled into a bob, paired with shaved sides, is sophistication personified.
Long Pixie with Undercut: For those who want a bit of length but still crave the undercut's boldness, this style strikes the right chord.
Curly Pixie with Undercut: Curly hair has its own charm, and this style just accentuates it. Shaved sides paired with curls on top? An edgy dream come true.
Pro Tip: If you're thinking of an undercut pixie, always get a touch-up schedule. Regular trims keep the style fresh and edgy.
Understanding Hair Types
In my years behind the chair, I've learned that every hair type narrates a different story. An undercut pixie isn't just a one-size-fits-all.
For Thick Hair: Think volume! Adding layers is the trick. It lightens the hair's weight and creates dynamism. Pair it with voluminous bangs, and voila—a blend of softness and edge.
For Fine Hair: Simplicity is the key. A sleek undercut pixie can give an illusion of fuller hair. Subtle waves can introduce a playful element.
For Wavy Hair: Wavy hair is naturally textured, so flaunting those waves with an undercut pixie is just mesmerizing. A few layers, a bit of curling, and the magic happens.
For Black Women: The rich, dark hue of black hair shines with an undercut pixie. A sleek look achieved with a flat iron or a pop of color can make this style utterly captivating.
Color Me Bold
I can't help but smile when clients want to experiment with color. It's like painting on a fresh canvas. Here are a few coloring escapades I've embarked on:
Platinum Blonde Undercut Pixie: Timeless! Perfect for fair-skinned beauties with blue or green eyes. But remember, platinum demands commitment.
Balayage Highlights: This hand-painted technique gives a sun-kissed, natural finish. Suitable for any hair color, it adds depth and dimension.
Fashion Colors: For the bold hearts! Vivid hues like pink, purple, and blue can either be a full-head affair or just subtle touches. Fashion colors are thrilling but demand regular upkeep.
Fun Fact: Did you know that the first synthetic hair dye was created in 1907 by French chemist Eugene Schueller? And now, look at the spectrum we have!
The undercut pixie is not just a haircut; it's a journey, an experience, and a statement. As a hairstylist, crafting this style is a blend of art and emotion, and each cut tells a unique tale. Are you ready to tell yours?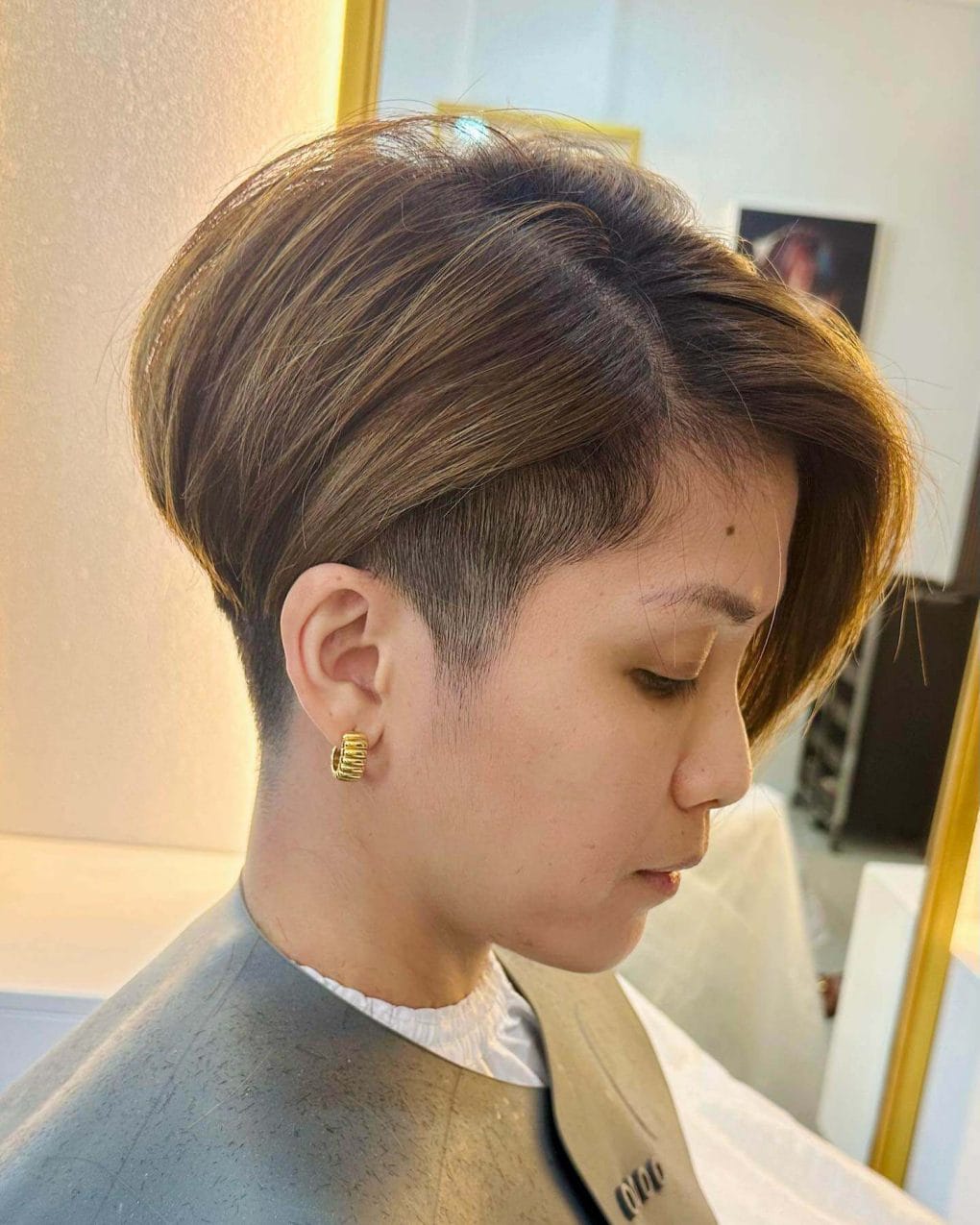 #1 Modern Brown Undercut Pixie with Subtle Highlights
This modern take on the undercut pixie features a warm brown tone with subtle highlights that enhance its texture and dimension. The hair is cut short and neat at the sides and back, revealing an undercut that adds a bold contrast to the softness of the longer, layered top section. The longer hair is styled to swoop elegantly over the forehead, creating a gentle side fringe that flatters the face, making this haircut a stylish choice for someone looking to combine finesse with a bit of edge.